Comments credited to the Lagos State Commissioner for Waterfront, Development and Infrastructure, Adesegun Oniru, that a fallout of Hurricane Sandy (that recently battered parts of the United States of America) might affect Lagos and cripple the coast lines, are beginning to generate reactions.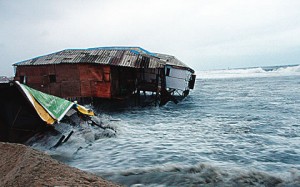 Oniru advised Lagosians that, between seven and 14 days from now, the city might begin to feel the ripple effects of Sandy on the shores and hence they should evacuate and also notify the relevant government agencies of rising waves of sea-water coming ashore.
But a non-governmental organisation (NGO), Fight Against Desert Encroachment (FADE), has remarked that the commissioner's submission, though not unexpected, should not just end with calls for evacuation, but rather concrete actions regarding ways to response to the development. Consequently, the group came up with several measures in that regard.
Founder of FADE, Dr. Newton Jibunoh, said: "As an organisation, which has been at the forefront of promoting advocacy for over 10 years on mitigating the effects of climate change especially in Nigeria while also proffering adaptation measures to be taken should a natural disaster of this nature fall on us, this does not come as a surprise. The discussion on the possibility of such disaster happening might be one for another day but the issues of how the state government and in effect the Federal Government would react is of high importance.
"FADE has frequently spoken about the changes occurring in the weather situations and warned about the increased wind speed especially in Victoria Island and Lekki Peninsula. Presently, the sea level has risen dramatically and the ocean is warmer as we speak. We therefore as of urgent necessity present the following as part of mitigation and adaptive measures for both the long-term and short-term purposes.
"Firstly, it is glaringly obvious that Nigeria needs proper satellite-based weather monitoring systems to alert people and also ensure there is a close probability range in forecasting weather conditions. Just stating that a state might be affected and asking the people who live along the coastal lines to report anything unusual is not sufficient. We believe that at that point panic will set in and such people will not even think of contacting a government official presuming they actually know who to call in the first instance.
"Secondly, Lagos State should start making arrangements for public shelters to hold people from low lying areas that need to evacuate to higher grounds.
"Thirdly, such arrangements should be made at Teslim Balogun Stadium and the National Stadium in Surulere, which are both on higher grounds in conjunction with the Red Cross and National Emergency Management Agency (NEMA). They should start planning for tents, mattresses, blankets, clothes, water, food, etc for the evacuees.
"Fourthly, as part of having a coordinated approach to responding to the emergency situation, effective transportation is necessary. Lagos State should arrange for buses to be called in on short notice to evacuate people to the provided public shelters. Emergency services and personnel should be put on the alert now and be drilled on what to expect. Mobilise transport owners associations and the state owned BRT buses to be part of the adaptation provision with round-the-clock access.
"Fifthly, adequate health facilities around the provided public shelters and neighbouring hospitals have to be made available and empowered to receive and cater for affected persons. Provisions must be by Lagos State to get the General Hospitals ready to treat people. Mini health units can be provided within the public shelters.
"Lastly but most importantly, effective information dissemination has to be employed by Lagos State to ensure persons across the length and breadth of the state are aware of the possibility of the occurrence of this
natural disaster using all forms of media: electronic, social networks, print and radio carried out on a large scale. It is very important that this is done without creating panic among the people as panic could lead to more casualties than the effect of the disaster.
"These are some of the preparations that need to be put in place if Lagos State believes we are in danger of this ripple effect."
According to him, FADE will continue to issue warnings based on past experiences and the monitoring of global occurrences. "Our primary areas of concern still remain Victoria Island, Lekki, Ikoyi and Banana Island. Merely asking people to call on some numbers when they see the waves appearing as put out by the Commissioner will lead to a monumental human disaster," Jibunoh submitted.