Today, we have the rare privilege of sitting at the feet of Comrade Jonathan Ihonde, to salute him on his 80th birthday and to learn from his revolutionary wisdom. This is the third edition of what we call "Learning from the Wise" – a deliberate platform for forging a just and sustainable future through intergenerational dialogue with elders and knowledge holders.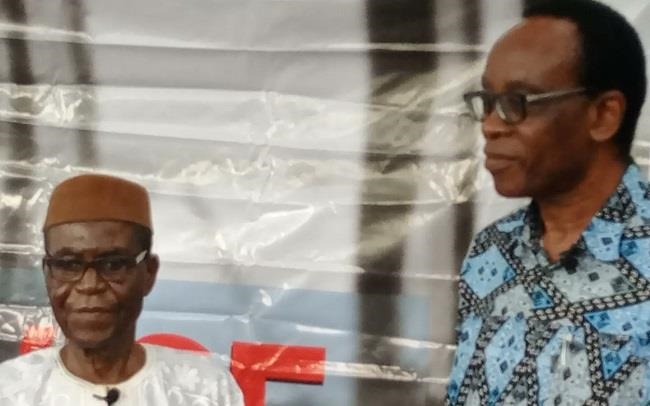 We have so far had sessions with the 90-year-old labour and environmental justice activist, Comrade Che Ibegura at Erema, in Rivers State, and at Ekpetiama with King Bubaraye Dakolo, writer, environmental and human rights activist, who is the current chair of Bayelsa State Traditional Rulers Council.
Comrade Ihonde is a man of many parts. He is a playwright, unionist, progressive political organiser and teacher. He was trained in the Soviet Union and was a frontline leader in the Radio Television Theatre and Art Workers Union of Nigeria (RATTAWU). Today he continues to mentor many as a visionary leader with clear understanding of tactics and strategies for effective movement building.
Comrade Ihonde 's "Hotel De Jordan" (1973-2000) stands out as an example of how the creative arts can be used to propel change. Hotel De Jordan arguably remains the most loved and memorable soap opera ever produced and aired by NTA Benin in the then Midwest and later Bendel State. As a veteran labour activist with a deep understanding of politics and politicians, Ihonde built the soap opera on his knowledge of "Nigerian politicians, their dress code, attitudes and endless pranks in sucking the blood of the Nigerian masses."
The drama bluntly told a story of highly political socio-cultural dimensions, exposing inequalities and showing the struggle by the masses to liberate themselves from the oppression of the ruling elites.
The sit-com had a memorable cast of Chief Ajas; Chief Igho; Chief Ugiagbe; Kokori; Idemudia; Lord Mayor; Madam Brefa; Gbewan, the sarcastic village beauty; Gberegbedegbeun; Casino Manager; Bob Allan and the bombastic Prof. Milo Monroe.
The drama and its use of songs to covey clear emancipatory stories highlighted the avowed conviction of its creator that the downtrodden can liberate themselves from the clutches of poverty and despair through struggle. The theme song, "Poor man dey suffer, monkey dey work, baboon dey chop", said it all.
Comrade Jonathan Ihonde was one of those that did the initial groundwork that led to the coming into being of the National Democratic Coalition (NADECO), a pro-democracy and anti-military coalition in response to the upturning of the 1993 electoral victory of MKO Abiola.
He worked closely with Chief Anthony Enahoro in that endeavour. His capacity to organise contributed to the building blocks of such major influential bodies including the Academic Staff Union of Universities (ASUU).
Learning from the Wise
Comrade Ihonde is a keen and an ardent student of life, a living encyclopaedia of Nigeria, its peoples, foibles and potentials. He is a bridge builder, and his life is a master class in the construction of solidarity and movement building. His creativity remains highly inspirational.
With the world gripped in a deep polycrisis, we believe that solutions to the complexities can be forged by listening to multidimensional thinkers such as Comrade Ihonde. The keys to this learning include his acute sense of history and knowledge of the complex terrain that makes up Nigeria.
His spirit of sacrifice and readiness to be immersed in the struggles without seeking accolades or public acclaim should speak volumes to young activists learning the ropes in an increasingly egocentric and individualistic society with severely deteriorated ethics and morality.
As a labour activist and unionist, Comrade Ihonde models the pathways needed in a world hurtling to the edge of (a) socio-ecological precipice. Wisdom from the Wise demands a new awakening and a shift from the celebration of dispossession, accumulation and destructive relationships with the Planet.
We remind ourselves that our relationship with each other defines our relationship with Nature. The health of the Planet is a major determinant of our overall wellbeing. Solidarity and cooperation societies that respect the rights of Nature to maintain her cycles and nourish humans and other beings with her gifts.
Destructive and exploitative relationships between humans inevitably promote extractivist, colonial and capitalistic modes that are yielding the polycrisis of climate change, extreme inequalities, pandemics and xenophobic nationalism, among others.
It is a privilege to sit, listen and learn from Comrade Ihonde.
Nnimmo Bassey, Director, Health of Mother Earth Foundation (HOMEF), spoke at the session of Learning from the Wise with Comrade Jonathan Ihonde in Benin City, Nigeria, on Saturday, July 23, 2022