The Marketing Officer for the Meat Board of Namibia in the north-eastern regions, Josef Likuwa, has urged communal farmers in the area to keep their animals in good health and good quality so that they can fetch good prices at animal auctions.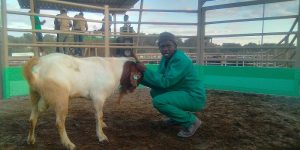 Lukiwa made these remarks at an animal auction held at Nepara in Kavango West recently.
Likuwa said the Mpasinkuru Auction Pen at Nepara is the best in this part of Namibia and the auction organising committee, the Meat Board of Namibia in collaboration with the Ministry of Agriculture, Water and Land Reform has chosen it to be the site for animal auctions.
The auction generated a total amount of N$1,156 million and this top two other animal auction held at the same pen earlier this year. Nepara is located about 18 km south of the regional capital, Nkurenkuru. The auctioned animals were cattle, sheep and goats.
The biggest cattle which fetched the record amount was a huge bull which was sold at 15,500. The bull weighted 620 kg. A massive Boerebock with a mass of highest price of N$2,500.
Christian Haufiku, the Ministry of Agriculture, Water and Land Reform's health technician in the region, said the auction was really a big success and so many animals were auctioned fetching good prices.
According to him, this auction was a different one from the previous ones as sellers needed to pre-ear-tagging for their animals, so that their animals can be booked into the auction systems.
Auctioned animals should be exactly those which have been selected by the seller four auctioning. "Animals should be ear-tagged and should have visible brandings. Stock brand prevent stock theft," said Haufiku. However, Haufiku said the auction had some few challenges.
One of these was that some farmers brought their animals to the pen very late, making it difficult for them to be put in the system and this led to the auction starting late.
"Some animals arrived very late, and this led to everything being delayed. Please, next time – try by all means to bring the animals early enough," Haufiku called on the farmers.
The auctioneer was George Haufiku from the Harambee Communal Auctioneers, who is also a member of the auction's organising committee.
Sellers were mainly farmers from Kavango West and Kavango East regions while buyers were mainly from the far-northern regions of Omusati, Ohangwena, Oshikoto and Oshana.
The next auction at Nepara will be held on the 28th of this month.
By Absalom Shigwedha