The Abuja-based Connected Development (CODE) has won the ONE Africa 2016 Award recognising, rewarding, and advancing the exceptional work of organisations founded by Africans and based in Africa, dedicated to helping Africa achieve the Sustainable Development Goals (SDGs).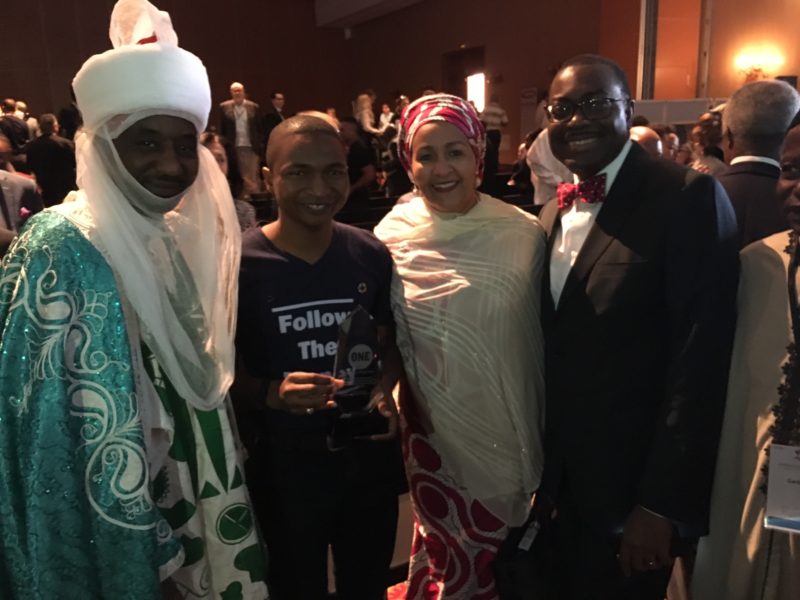 It's initiative, "Follow The Money", believed to be the largest volunteer grassroots movement on transparency and accountability in Africa, emerged winner among three finalists, presented by Bono, the lead singer of the UK group U2, and co-founder of ONE Campaign, during the just concluded Mo Ibrahim Foundation Governance forum, held in Marrakech, Morocco.
CODE has walked away with the ninth ONE Africa Award. The Award is granted to civil society organisations, non-governmental organisations and other groups based in Africa, that have demonstrated commitment and success in advocacy to promote the attainment of one or more of the SDGs. CODE provides marginalised and vulnerable communities with resources to amplify their voices with independence and integrity while also providing information that ushers social and economic progress. With global expertise and reach, CODE focuses on community outreach, influencing policies, practices, and knowledge mobilisation. CODE's commitment to participatory capacity and community building, monitoring and evaluation creates effective and sustainable programmes even within the most challenging environments.
Chief Executive of CODE and Co-Founder of Follow The Money, Hamzat Lawal, on behalf of the organisation, received the award, which highlights the dynamism and achievements of African groups and organisations that are building a better future for their communities, countries and continent.
"We are super excited to be the recipient of this award and also thankful to ONE Campaign for this great opportunity. This Award restates the continental belief in our rural development works. This we warmly appreciate. And ultimately, this is timely and will be exceedingly utilitarian in broadening our continental impacts through facilitating development in marginalised communities, as well as empowering them to stand up and hold their leaders accountable." said Lawal.
He added: "This has come as a pleasant surprise considering the remarkable profiles and developmental work of other finalists. We are very excited to be the recipients of this award, and we are thankful to the ONE Campaign as this reaffirms the continent's belief in our rural development work. The award will be useful in broadening our impact through facilitating change in marginalised communities, as well as empowering them to hold their leaders accountable."
Congratulating the 2016 ONE Africa Award recipient, Nachilala Nkombo, ONE Africa interim Executive Director, said: "Africa has enormous resources and it is inspiring to see African-led organisations leading the change. Progress on our continent is held back by a lack of accountability and transparency, among other things. It gives me great honour to present the award to an organisation such as CODE, which has been working tirelessly to curb corruption and increase transparency in Nigeria.
"The ONE Award is an opportunity for ONE to highlight some of the innovative Africa-led and driven initiatives that are building a better future for the continent every day. Africa is developing because of the dedication of civil society organisations such as CODE that are doing incredible work in every town, village and community. What I must acknowledge is that none of what we do would be effective without the essential role of African civil society organisations in accelerating the achievement of the Sustainable Development Goals. We are therefore proud to support local civil societies on our continent, and it is for this reason that the ONE Africa Award was initiated."
CODE's impact in advocacy stood out from a pool of 123 impressive applications from 10 countries across Africa. CODE's most successful campaign, Follow The Money (FTM), is an action advocacy-based project used to track, visualise and advocate for transparency in government and international aid spending by making sure that the government works for the people. Their list of accomplishments includes: effectively wielding small gains and wins in the fight against corruption through FTM while developing a robust online presence to track its campaigns and projects, badgering the government to produce funds where it has promised.
President and CEO of the ONE Campaign, Gayle Smith, said: "In the fight against poverty in Africa, corruption and the lack of transparency in the governance system is our ultimate opponent. Therefore, we at ONE are delighted to announce CODE as the winner of the ninth annual ONE Africa Awards, as they empower and equip rural communities to keep their local government's representatives transparent and accountable."
On the sideline, Mo Ibrahim said: "Nigeria and Africa at large needs people and organisation like yours to ensure sustainable development and value for money."
The $100,000 prize money is underwritten by an endowment from The Howard G. Buffet Foundation and recognises innovative African efforts to fight poverty and incentivise more of such efforts.
The 2017 Governance Forum which focused on violent extremism and migration, participation and democracy, inclusive economic growth and jobs for youth  brought together various thought leaders in Africa and the World at Large including the Emir of Kano, HRH Sanusi Lamido Sanusi; the United Nations Deputy Secretary General, Amina J. Mohammed; former Secretary General of the United Nations, Kofi Annan; Chairman of Dangote Group, Aliko Dangote; former Finance Minister, Okonjo Iweala; and Africa Development Bank (AfDB) President, Akinwunmi Adeshina.