Compared to other forms by which people decide and determine their political fortunes, democracy enjoys a greater approval and wider acceptance across the globe. Proponents of democracy as a preferred system of government boast about the potency of the system to strike the cord that energises the citizenry towards conscious and active participation in matters relating to self-preservation and government as a people. Democracy gives voice to every member of the society without discrimination of any sort. A strong citizen's voice is a sine qua non for responsiveness on the part of any government on the delivery of public goods and services.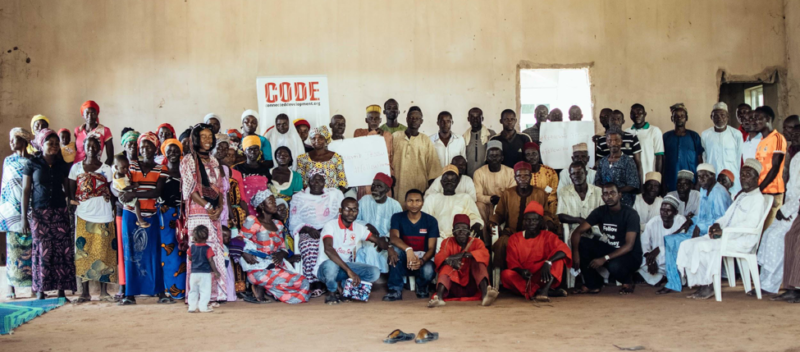 There is a direct link between democracy and rapid grassroots development the world over. Taking cognisance that greater percentage of Nigerians live in the rural areas; governance in any true democracy should be strongest at the grassroots. In Nigeria, the reverse is simply the case – grassroots governance is rather weak and almost insignificant. Evidence to this claim is the comatose state of local government administration across the 774 headquarters in the country.
Descent development has eluded rural communities in Nigeria, to no exception. Rural dwellers are often the most neglected or abandoned; the least served in terms of dividends of democracy; the least represented in social amenities and infrastructural provision; and also the least consulted in terms of policy decisions except during electioneering or partisan campaigns and thereafter, only to be forgotten after elections are won. Alienation of rural communities at the grassroots has become more of a norm than an exception by successive governments in Nigeria and sub-Saharan Africa. This is sad, disturbing and unacceptable. Be that as it may, the rate of development a nation attains is determined by the quality of life and development of people at the grassroots.
Development of rural communities must begin with the active participation of rural dwellers at the grassroots. Democracy is never complete unless there is active involvement and participation of the people at the rural areas. Similarly, development is never complete unless the people are consciously carried along and involved fully in the governance process.
From 1999 till date, Nigeria has enjoyed uninterrupted civil democratic rule after years of dictatorial military regimes. This has been characterised by a new era of regular elections as well as return of civil liberties – to a reasonable extent and a corresponding explosion of civil society organisations. In this regard, a major landmark accruing from Nigeria's democratic experience is the signing into law of the Freedom of Information Act by the government of President Goodluck Ebele Jonathan.
One organisation that stands tall in the community of civil societies is Connected Development (CODE). CODE, over the years, has leveraged on the Freedom of Information Act (FoIA) to negotiate and mediate citizen engagement efforts across marginalised rural communities in Nigeria to demand accountability and transparency from their elected representatives and politicians for responsiveness on the provision of public goods and services especially on three thematic areas: health, education and environment.
These thematic areas have implications for the actualisation of the Sustainable Development Goals (SDGs). SDGs are a set of 17 "Global Goals" with 169 targets among them. Spearheaded by the United Nations through a deliberative process involving its 193 Member States, as well as global civil society, the goals are contained in paragraph 54 of United Nations Resolution of 25 September 2015. Our campaign on health is addressing Goal 3: Good Health and Well-being, while that of education is focused on Goal 4: Quality Education. Also, our advocacies and campaigns on environment is captured on Goal 6: Clean Water and Sanitation of the SDGs.
Since 2012, CODE has traversed the six geopolitical zones of the federation mobilising citizens for active participation for the business of good governance by tracking capital public appropriations or expenditures and amplifying citizens' voices and experiences as they clamour for transparency and accountability against secrecy, obscurity and opacity in public expenditures.
CODE's initiative, "Follow The Money" (FTM), is a pan-African fast-growing movement dedicated to building a large community of active citizens – youths, women, adults, rural dwellers, marginalised or closed groups, persons with special needs, policy makers and indeed everybody; to promote open governance, transparency and accountability. The buzz about this movement is also about decapitating corruption and misuse of public funds meant for rural areas, not excluding urban areas at the same time.
Corruption is an insidious plague that has a wide range of corrosive effects on societies. It undermines democracy and the rule of law, leads to violations of human rights, distorts markets, erodes the quality of life and allows organised crime, terrorism and other threats to human security to flourish. This evil phenomenon is found in all countries but it is in the developing world that its effects are most destructive.
Corruption hurts rural communities (grassroots) disproportionately when compared to urban areas by diverting funds intended for rural development, infrastructural provision and efficient functioning of the organs of government. This undermines Government's ability to provide basic services, thereby, feeding inequality and injustice and discouraging foreign aid and investment.
Corruption is a key element in economic underperformance and a major obstacle to poverty alleviation, development and national prosperity. This is why CODE and her Follow The Money project could not have found relevance at other time in our history than now. Like President Buhari always posit: "We either kill corruption or corruption will kill us".
Impressively, in the past five years, FTM has led interventions on the implementation of capital projects in our thematic areas of interest (health, education and environment) in over 40 rural communities in 16 states across the federation. Verifiable records at her secretariat reveal that about 115,822 lives have been torched and empowered in their outreaches.
This record is unsurpassed and unbeaten in the history of civil society organisations in Nigeria and arguably the entire sub-Saharan Africa. Worthy of note is CODE's sustainability and strategy document where she plans to cover 105 communities in 36 states and the FCT touching about two million lives in the process.
"For now, we cannot forecast challenges or threats capable of undermining our goals. We have a dedicated workforce of young people who are deploying technology to achieving their targets and deliverables. I tell you, our projections are modest. We can even surpass them," says the Chief Executive, Hamzat Lawal.
CODE, using the instrumentality of Follow The Money, is leading the fastest growing community of citizens who are committed to holding their leaders and public servants accountable on good governance. The standing vision of the organisation is a world where everyone, even in the remote parts of the world, can hold their government accountable.
Join this community of active citizens at www.ifollowthemoney.org. By so doing, we accept responsibility of our leadership crisis and deficit. Joining the movement is one of the pathways to the Nigeria of our dream.
By Ani, Nwachukwu Agwu (Abuja-based rural development scholar; @NwachukwuAni)