Groups plan series of escalating events to expose details of controversial Nagpur PPP model promoted by Modi government, World Bank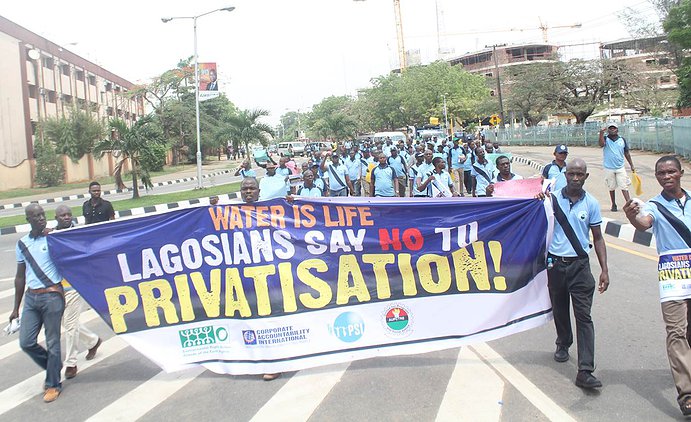 This week, the Nagpur Municipal Corporation Employees' Union (NMCEU), 25 Nagpur grassroots civil society groups, and organisations from across India kicked off two weeks of escalating events to demonstrate the failure of Nagpur's public-private partnerships (PPP) water privatisation scheme, including a call for the contract's cancellation and the utility's remunicipalisation. The events, part of a nationwide push, are bolstered by a global petition signed by more than 700 organisations from 20 countries and more than 18,000 individuals.
The escalation, endorsed by affiliates of Indian Social Action Forum (INSAF) and Public Services International (PSI), is the latest in a global movement to protect the human right to water from PPPs and similar forms of water privatisation. The mass mobilisation aims to prevent Prime Minister Narendra Modi's government from replicating the failed Nagpur model in its recently launched nationwide pro-PPP urban development initiatives. The programmes, including "Smart Cities" and the Atal Mission for Rejuvenation and Urban Transformation (AMRUT), together target 600 municipalities, and Modi himself has called explicitly for replication of the Nagpur project.
"In Nagpur, the PPP scheme has enabled companies to squeeze profits from what should be a public water system, while workers suffer and families struggle to pay unaffordable bills or withstand life-threatening water shutoffs," said Jammu Anand, president of NMCEU, a member of PSI that has opposed the Nagpur municipal authority's water privatisation—managed by Orange City Water Pvt. Ltd.—for the last eight years. "The idea that the Indian government would expand the Nagpur model—a glaring violation of the fundamental human right to water—to hundreds of cities and millions more people across India is simply dangerous and puts corporate profit before human life."
Nagpur's water PPP has led to shutoffs, skyrocketing bills, poor service, and lengthy project delays—common outcomes of water privatisation detailed Corporate Accountability International's reports, "Shutting the spigot on private water" and "Behind World Bank spin." The Nagpur case garnered international notoriety when a coalition of civil society organisations awarded Veolia, whose subsidiary is the 50% partner in Nagpur's privately operated utility, a "Pinocchio Award" for violations of social and environmental rights.
Veolia's poor track record in the water sector has been exposed widely, including the scathing report, "Troubled waters". Just recently, Romanian prosecutors charged the CEO of Bucharest's Veolia subsidiary with bribery and illegal influence-peddling.
Despite the Nagpur model's disastrous results, the World Bank holds it up as a success story, and Veolia and its competitor, Suez, are hoping to profit from an expansion of water privatisation  throughout India. Until 2014, the World Bank even held an ownership stake in the Veolia subsidiary involved in Nagpur. Now, the World Bank, which has widely promoted and facilitated the PPP model, is in discussions with the Modi administration to provide funding for the expansion of this model.
"In the pursuit of these water privatisation projects, the World Bank continues to confuse 'development' with profit," said Shayda Naficy, a water privatisation expert at Corporate Accountability International. "For years it has ignored the concerns of the people most affected by this dogmatic pursuit, but with people across the globe raising their voices, it can't run from the truth any longer."
The escalation around the Nagpur case echoes a campaign launched in October 2014 in Lagos, Nigeria, the largest city on the African continent, that successfully led to the cancellation of a proposed World Bank water PPP advisory contract and has so far stalled a large-scale privatisation scheme that had once been deemed imminent. Timed with the escalation in India, Corporate Accountability International unveiled a new exposé, "The truth about public private partnerships" debunking common myths about this form of water privatisation.
The World Bank's president Dr. Jim Yong Kim, chief economist Kaushik Basu, top water official Junaid Ahmad, and country director for India Onno Ruhl have neglected to respond to a December invitation issued by the Nagpur-based organisations to receive testimony about the water PPP from Nagpur residents at an event in the city on January 29th.