Commissioner for Environment and Mineral Resources, Akwa Ibom State, Dr Iniobong Ene Essien, sheds some light on the forthcoming Climate Change Summit scheduled to hold in Uyo, the state capital. He believes that, to the people of the state, this is an opportunity to create green jobs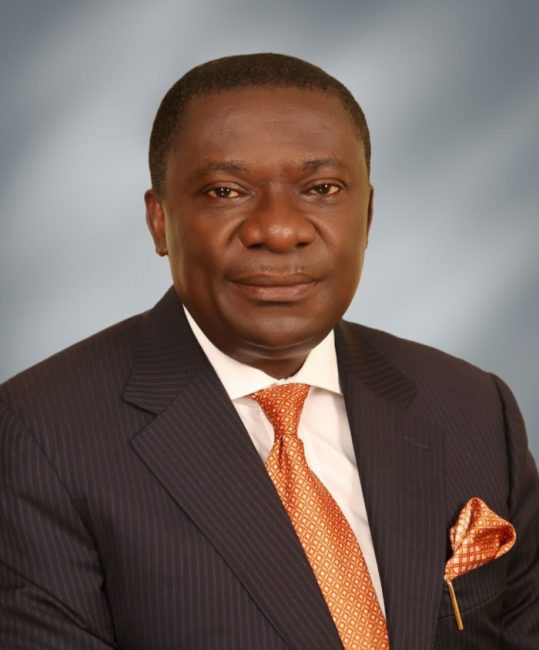 Kindly shed some light on this much-talked-about climate change conference.
The summit is essentially on climate change and sustainable environment, with the theme, "Charting a Roadmap for Sustainable Environment and Creation of Green Jobs". It is going to attract national and international audience. We have prominent speakers, like the Honourable Minister of Environment, who is going to give a keynote address; we have Prof Hillary Inyang, who is going to present a technical paper and quite a number of other experts on climate change and clean energy and technology. The Summit will also feature the exhibition of clean technology and other related climate change technologies. Participants will be drawn from within and outside the country. We have invited all the state Ministries of Environment and their Commissioners. Participants will also come from the academia. Clean energy developers and operators will also participate. Our youths that returned from the state government-sponsored training on solar energy will also be there. And of course, in tandem with our principle of catching them young, we are going to have a number of students from various schools participating actively.
I understand this is the maiden edition of the Summit. Why do you choose to have the summit on climate change in Akwa Ibom State now?
It is scientifically proven that climate change has come to stay and the impacts are such that we cannot run away from. The effect is all over the place. In a coastal state like Akwa Ibom, we have erosion all over the place. The question is: why are these things happening now? The environment has always been there but we never experienced these kind of problems. If the scientific evidence of climate change and its effects are real, then we certainly do have a better time than now to look seriously at the urgent need to ensure that we put in place mechanisms that would ensure mitigation and adaptation against climate change. Climate change affects agriculture, food production, water supply and many other areas. There is serious flooding and sea level rise and these are quite prominent now. We have a number of communities that are dislocated because of this problem. So, now is the time to look seriously in the direction of ensuring that we put in place mechanism that will mitigate against climate change.
How beneficial would the summit be to the people of Akwa Ibom and Nigerians?
To the people of Akwa Ibom, this is an opportunity to create green jobs. We are also looking at participating fully in the Intended National Determined Contributions (INDCs) of Nigeria towards the policy on climate change. Nigeria took part effectively in COP21 in Paris, and COP22 is coming up in Morocco. We should be able to make our own contributions towards what will be presented in Morocco. More importantly, we are trying to create a low carbon city in Akwa Ibom State and make it a hub for renewable energy and, in the long run, because climate change is on the front burners, it is going to attract many investors. Investors from the developed nations are looking for low-carbon city where carbon credit is created, and of course, money is generated from there. So, it is going to be a win-win situation for our state and by extension, our country.
Like I said, impact of climate change has come to stay. Scientists have proven that the earth is warming and there is no running away from that fact. Therefore, we must key into global trend. Climate change issues are on the front burner. Sometime last year, President Muhammadu Buhari was in Dubai and, later, Paris to attend Climate Change Summit. Therefore, there is no way we can say this is not an important event. This is the time to bring climate change issues to the fore, to create awareness on effects of climate change and also put in place structures and mechanism that will mitigate the effects of climate change.
How has your ministry been performing in terms of tackling issues affecting the environment in the state?
First of all, we have to key into the policy of industrialisation of the present administration.  There is no way you can do industrialisation without clearing bushes and cutting down trees; the groundbreaking ceremony will certainly end up with cutting down trees and getting the places ready. The consciousness must be there that for every tree you take down you should be able to plant three or more, considering the fact that it takes up to five years before you can even have seedlings grow into mature trees. For us as a Ministry, we are careful that once these trees are being brought down, we are making conscious effort to replace them. Secondly, in the area of waste management, we are looking at it seriously because industrialisation comes with population increase and, therefore, increase waste generation. So, we are looking at waste recycling as part of our waste management effort. Waste-to-wealth is something that we are looking at seriously. We have an integrated waste management plant that is coming up and, once it takes up fully, all our waste will go there for management.
That one in particular is looking at organic fertilizer as a final product. We are also encouraging other investors to come in and look at other areas of recycling. The other area is on the issue of flooding and erosion control. A lot of erosion problems that we are facing now are man-made, which goes to agree with what scientists themselves have confirmed. I remember that the Pope once said that the human induced climate change is something that the scientists have confirmed and therefore, its mitigation is a moral and religious obligation for humanity – it is an imperative. That means we must take steps now to correct past mistakes. The president of US said that for the sake of our future and that of our own children, we must do more to combat the effects of climate change. That underscores the seriousness of the effect of climate change – it is staring everybody in the face and so, all hands must be on deck. The Ministry of Environment is doing everything to ensure that all areas of human-induced climate change are tackled. And then the areas that are vulnerable to climate change, we should take steps to reduce the vulnerabilities of such areas.
Has the ministry been carrying out sensitisation programmes to enlighten the people on the fact that most environmental problems are man-made?
We have stepped up enlightenment in this area. We are enlightening our people on the effects of degrading their natural environment. We are also talking to people on the need to keep our drainages free. You know, a number of people still believe that drainages are dumpsites, and so, they generate their wastes and throw them into gutters and, at the end of the day, these gutters, which are supposed to be channels for water to flow, are blocked. Enlightenment is a continuous thing. We will continuously enlighten the people on the need to preserve the environment and keep it clean.
What should people expect from the summit?
It is a major summit that will address issues of climate change. Climate change challenges are here with us and every person who is interested in the mitigation of climate change must attend this summit. The gains of the climate change are long-lasting. We must start planning to be able to benefit maximally. One of the gains will be the creation of green jobs. Some of the people who are coming to exhibit have products that will create green jobs for our people. For instance, not too long ago, we had 200 of our youths that went to train on solar energy technology. They are through with the training and have returned home. We need to integrate them into some of the renewable energy technology programmes.