Nigeria's Environment Minister, Mohammed Abdullahi, has urged Nigerians to view the Climate Promises Initiative (CPI II) as a once-in-a-generation chance for the nation to address its environmental issues and raise its socio-economic standing.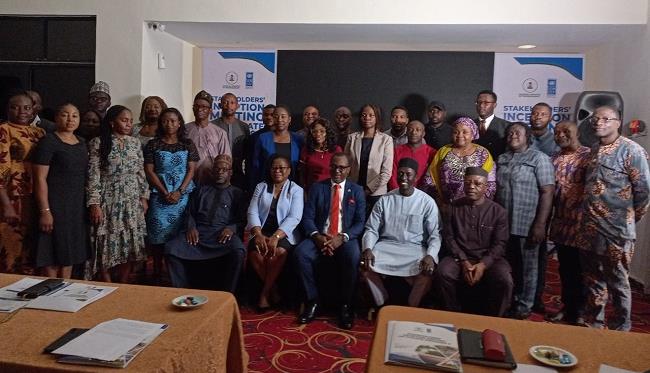 Speaking through Mr. Lawrence Adigwe, the ministry's director of Human Resources Management, who attended the Department of Climate Change's (DCC) stakeholders' inaugural meeting on Climate Promises II held on Thursday, April 13, 2023, in Abuja to represent him, the minister, described the programme's launch as a testament to the government's commitment to take significant action to mitigate the effects of climate change.
"It is a call to action for governments, businesses, civil society, and individuals to work together towards a common goal of reducing greenhouse gas emissions, advancing sustainable development, and safeguarding our planet for future generations," he said.
While highlighting some of the world's environmental challenges, such as rising sea levels, droughts, increased food insecurity, and community displacement, Abdullahi stated that he believes the CPI II project represents an important milestone in the country's efforts to combat this life-threatening disaster.
So, in his opinion, it marks the start of a journey that would require devotion, teamwork, and ingenuity from everyone involved in meeting Nigeria's adaptation requirements. And, in order to accomplish this and assist Nigeria in meeting its lofty aim set out in its Nationally Determined Contributions (NDCs), the nation's environment chieftain noted that sharing ideas, exchanging best practices, and learning from one another are required.
He emphasised some of these prerequisites, such as the necessity to mobilise resources, build skills, and promote an atmosphere that encourages innovation in order to be able to accomplish this challenging goal.
As a result, its success, he noted, will be determined by "our ability to translate promises into concrete actions" that recognise the uneven distribution of the effects of climate change.
The director supervising the office of the permanent secretary of the ministry, Mr. Charles Ikeah, told the participants in his welcome message that with the release of the CPI II, they would be engaged in talks and activities on critical climate change issues.
Mr. Ikeah, who was represented at the event by Dr. Iniobong Abiola-Awe, the DCC's director, who read his speech, hinted that these discussions and activities would focus on strengthening the inclusive agenda, gender-responsive governance, financing mechanisms to enable delivery, and tracking of NDC targets with inclusive policies, strategies, plans, and regulatory frameworks at the national, sectoral, and subnational levels, all with the goal of assuming that the NDC targets are met.
He expressed his gratitude to the United Nations Development Programmes (UNDP), whom he described as the ministry's partner, for sponsoring and assisting this program and making sure that it was a part of their crucial efforts to address the causes of climate change in Nigeria.
Confronting the climate disaster, according to Mr. Lealem Dinku, UNDP's head of Programmes, who represented his organisation at the meeting via an online platform, will require Nigeria to take aggressive actions to implement its Paris Agreement obligations to reduce greenhouse emissions that cause global warming.
These actions, he explained, would require both public and private investments in Nigeria to handle the climate change catastrophe, including appropriate auditing and regulatory frameworks that identify inclusive and gender-responsive governance, as well as financing mechanisms to hasten the achievement and tracking of its NDC targets.
He stated that the massive infrastructure layout, implementation, and reporting methods, as well as the comprehensive open-ended design, all included in the CPI II master plan, are a clear indication of what it promises to achieve.
"I urge you, as enablers of the climate promise, to identify opportunities for engagement and partnerships," Mr. Dinku encouraged, pledging that the UNDP is always ready to assist poor countries eager to boost their NDC ambition.
Responding to some of the issues raised by participants, particularly the issue of gender inclusivity, Dr. Iniobong Abiola-Awe, the director of the DCC, informed them that the CPI II contains some activities centered on gender responsiveness, which she stressed should be taken into account during the implementation process.
She agreed that there are other difficulties that, if not addressed, have the potential to jeopardize the viability of the climate adaptation strategy, such as the need to build capacity and harmonise data.
The DCC chief gave the group her word that they would be contacted again by the ministerial team working on this project and that she expected them to give their usual full support.
"We anticipate that these initiatives, which are intended to improve domestic activities in Nigeria, will be successful," she said in her conclusion.
By Etta Michael Bisong, Abuja