Some women in Kaduna State have begun planting of 5,000 trees in 220 primary and secondary schools, as part of environmental sustainability strategy to combat climate change.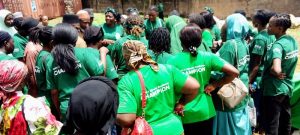 The tree planning was part of a four-day training on Green Microenterprise Development organised by the Women Initiative for Sustainable Environment (WISE), an NGO, for women and youths' groups.
The founder and Programme Director of the NGO, Mrs Olanike Olugboji-Daramola, said that the goal of the tree planting campaign was to contribute to minimising the effects of climate change.
Olugboji-Daramola said that the trees would be planted in 140 secondary schools and 80 primary schools in partnership with the state Ministry for Education and the State Universal Basic Education Board.
She added that the tree planting and the promotion of the energy efficient and environmentally friendly cookstoves, was under the WISE's Nigeria COVID-19 and Climate Resilience Programme.
She added that the programme was being funded by Women Earth Alliance, a United States-based NGO, who equally provides leadership, strategy, and technical support.
"The programme is assisting women leaders to scale their climate and environmental initiatives, while connecting them to a global alliance of peers, mentors, and funders.
"It is designed to build the capacity of women in social entrepreneurship and reusable energy to foster a clean and safe environment," she said.
The programme director said that the tree planning campaign would be concluded in July.
She disclosed that a Green Microfinance, a fourth component of the COVID-19 and Climate Resilience Programme would be launched in August.
One of the women, Mrs Torkwase Ordam, lauded WISE for the enlightenment on environmental conservation through planting of trees.
Ordam said that the four-day training has exposed her to different kinds of economic trees that could be cultivated for economic benefits while also combating climate change.
She described the training as an "eye opener" and pledged to plant more trees and nourish them to maturity.
She thanked WISE for the opportunity, noting that women were at the receiving end of climate change challenges.
Another participant, Mrs Hauwa Adamu, said she has learned different ways that women could contribute to conserving the earth, particularly through tree planting.
Adamu said she would plant economic trees in her house for economic benefits while ensuring a greener atmosphere in her neighborhood.
On her part, Mrs Magdalene Musa, pledged to step down the training to ensure women in her community play a vital role in conserving the environment.
By Sani Idris