Poised to step up the campaign against climate change and its disastrous effects on the environment across Nigeria, a host of top Nollywood stars are set to hit location for a documentary titled, "Battle for Life".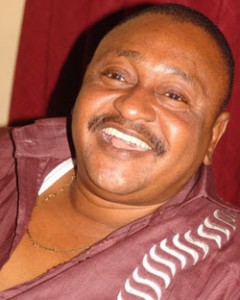 The documentary, spearheaded by foremost actor, Jide Kosoko, is expected to dramatically examine core issues in climate change as it relates to Nigeria's peculiar setting.
Kosoko recently led his colleagues including Director for the documentary, Tunji Bamishigbin, Rachel Oniga, Antar Laniyan, Segun Arinze, Ngozi Nwosu, Chinedu Ikedieze aka Aki and a host of others on a courtesy visit  to the Lagos State Ministry of Environment, one of the major sponsors of the documentary drama.
Kosoko, who spoke to newsmen, said "Battle for Life" would enlighten Nigerians about climate change, its causes and effects on the environment, human existence, well being and the economy.
"It will examine both traditional and modern human practices that have significantly contributed to global warming and ozone layer depletion and dramatically proffering workable steps that can be taken to mitigate or reduce incidences of global warming bearing in mind the peculiarities of the Nigerian society and cultures".
He said the docudrama would employ English Language, Pidgin and other indigenous languages as medium of communication to enhance acceptability and effectiveness as a public enlightenment, education and sensitisation tool.
Giving an insight to its synopsis, Kosoko said it would chronicle the great threats climate change poses to Nigerians with desertification in the North, soil gully erosion in the East and flooding in the West and how the emission of greenhouse gases (GHGs) through collective activities are responsible for it.
"It will also show real time images of climate change induced disasters and how our future hangs in the balance if simple, efficient and cost effective mitigation and adaptation measures are not urgently embraced by all and sundry," Kosoko said.
Receiving the Nollywood stars, Permanent Secretary in the Ministry of Environment, Dr. Mrs. Titi Anibaba, said the state government was not relenting in its effort to ensure that residents do not suffer the consequences of climate change, especially through flooding.
She commended the initiative of the docudrama which, according to her, would go a long way to spread the gospel of shunning activities that leads to climate change as well as embrace measures to mitigate it.
She assured of the support from the state government to provide logistics, urging the Federal Government to be more proactive and carry all states along to ensure that every Nigerian joins the fight against climate change.
The project is being supported by the United Nations Development Programme (UNDP) under the African Adaptation Programme (AAP). Indeed, it is being executed under the overall guidance of the Department of Climate Change (of the Federal Ministry of Environment) and the National Coordinator for AAP Project Monitoring Unit (PMU), Dr. Adejuwon, with day-to-day supervision of the AAP Project Coordinator in close collaboration with the UNDP's Sustainable Development Unit.