I was commuting from Ojota to Obalende a fortnight ago, in one of the big red buses used in Lagos when, perhaps taking a peek at a climate change material I was glancing through, a lady sitting beside me struck up a conversation. She wanted to know what this climate change thing really was, and why everyone was so bothered about it in foreign countries. Snickering, she chipped in an aphorism she imagined to be Nigerian by its nature, "All these things no dey affect Naija people abeg". This got me worried.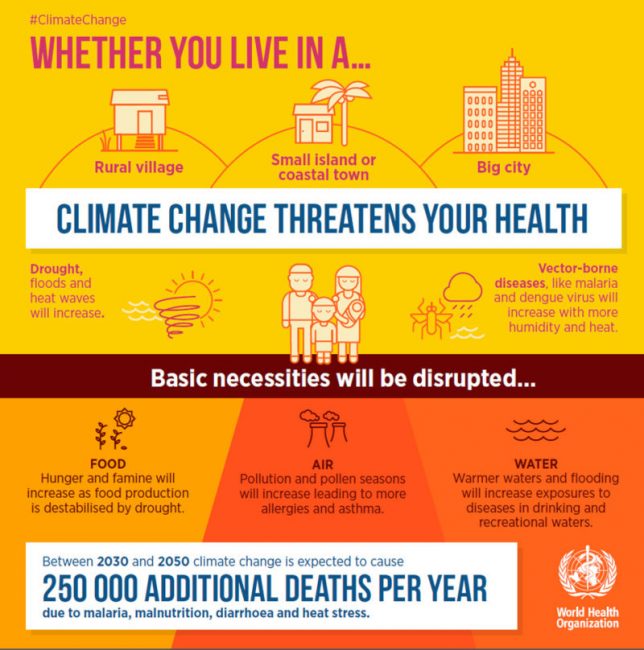 The perception of climate change in these area – by that I mean Nigeria and most of Africa – has remained fairly constant for a while, affected by traditional, socio-cultural and religious narratives, an inundation that Africa does not matter in the scheme of things, and is not affected too by whatever calling card nature comes with. The snag in this narrative though, is that, it is highly fallacious and leaves us grossly underprepared. When it comes to climate change, no one is safe, and here is why.
Climate change patterns play a fundamental role in shaping natural ecosystems and the human economies and cultures that depends on them; and pragmatically speaking, which leaves no economy out of the mix. Perhaps it is necessary to demystify the concept of climate change a bit. Climate change refers to rapidly changing weather patterns over a period of time, caused by global warming which is a result of human activities, especially the use of fossil fuels. So, simply put, the weather patterns change rapidly, resulting in extreme ones; too dry or too wet, too hot or too cold. This inevitably upsets the eco-system and environmental balance; affecting agriculture, water supply, food availability and access, livelihood, keeps more people indoors and essentially affects human health. Then follows accelerated rates of evaporation, causing the skies to be heavy with humidity, and the soil to be lacking in it, the causal factors for droughts, heavy rainfalls and warmer ocean temperatures that strengthen hurricanes and tornados.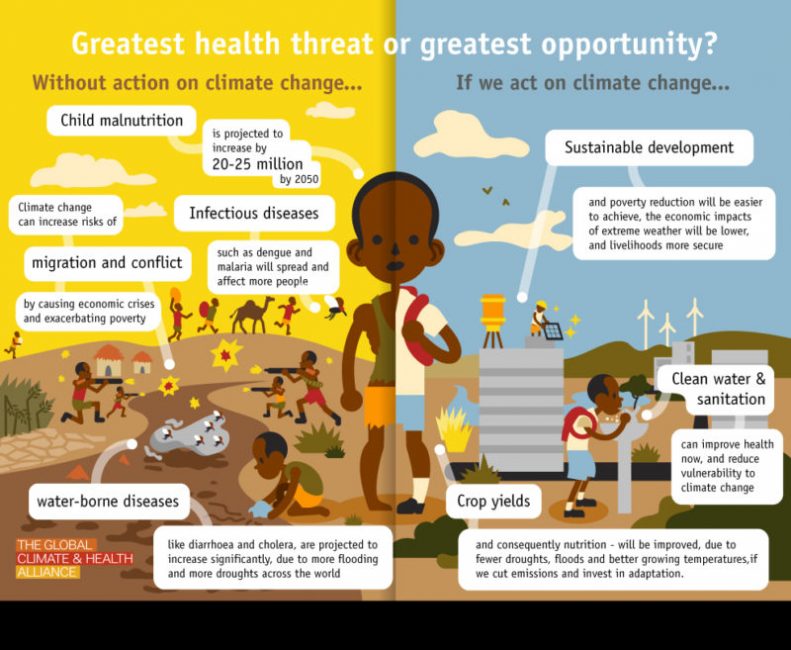 Climate change clearly plays a pivotal role in human existence today, and even with the greatest attempts to deny the reality of this quandary, one area we cannot fail to see climate change negatively impacting society is in the adverse health effects to communities. Climate change effects on health include direct effects and indirect effects. The direct effects span vector-borne diseases such as malaria and dengue fever. Others include West Nile virus, cholera, Lyme disease and asthma resulting from air pollution. Even Ebola is not left out of this conversation. According to Kris Murray, senior research scientist at EcoHealth Alliance, an organisation that researches and educates about the relationships between wildlife, ecosystems and human health, climate change has strong potential to play a role in increasing the risk for ebola. Meningitis too, famous for its epidemic in the earlier part of this year had its outbreak peaked by extremely low humidity and severe heat waves in the Northern part of Nigeria.
Recently, a new study published in the Proceedings of the National Academy of Sciences, predicts more deadly heat from climate change. The researchers further warned that by 2050, more than 350 million people living in urban areas would be hit with deadly heat waves every year. This poses an even bigger challenge for an already hot sub-Saharan Africa. Truth be told, if Africa does not act now, we will be toast, sitting ducks for climate change, especially considering that the vulnerability predictions for West Africa keeps us as being in acute health dangers from the effects of climate change . With weaker economies than developed nations, less levels of preparedness and an underfunded healthcare system, it will be a case of double jeopardy if we wait till the adverse effect of climate change hit the health of Nigerians hard. Recently, resident doctors, comprising a large chunk of doctors in Nigeria, went on strike to lament bad welfare conditions. The infrastructure leaves so much more to be desired, while access to healthcare for many is a farce.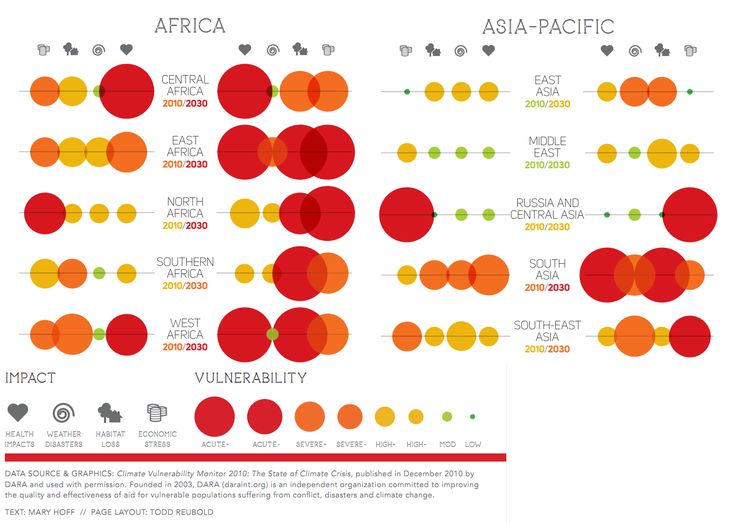 The major public health organisations of the world have said that climate change is a critical public health problem. Climate change makes many existing diseases and conditions worse, but it may also help introduce new pests and pathogens into new regions or communities. Dengue fever for instance infects about 400 million people each year, and is one of the primary causes of illness and death in the tropics and subtropics. The IPCC projects that the rise in temperatures along with projected increases in population could put 5 to 6 billion people at risk of contracting dengue fever in the 2080s. The reproductive, survival and biting rates of the Aedes Aegypti mosquitoes that carry dengue and yellow fever are strongly influenced by temperature, precipitation and humidity. Scientists at the University of Maryland School Of Public Health have also found that extreme heat and heavy rainfall may increase risk of hospitalisation for asthma.
Taking the discussion to the indirect effects, only a few weeks back, we witnessed the sad incident of flooding in Makurdi, an occurrence that was reported by the National Emergency Management Agency (NEMA) to have claimed three lives and put 110,000 people at the risk of contracting diseases. The agency further noted, "At the Government approved IDP Camp, up to 4 families are reported to be accommodated in one room. This suggests the possible risk of an epidemic as some hospitals in affected locations are reported to have shut down due to the flood." This is one of the adverse effects of climate change that can result in further health problems.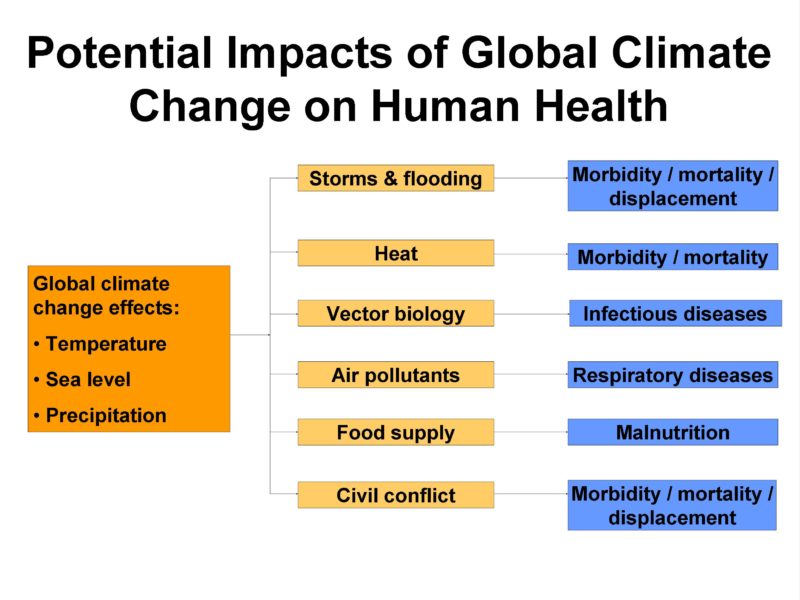 Recently, the World Health Organisation (WHO) estimated the costs to health from climate change to be linking $2-4 billion per year by 2030, across the world. With flooding comes related disasters since floodwaters act as sponges for hazards. As they bubble past city streets and fill cars and homes, they collect sharp objects, sweep up insects and wildlife, and gather human waste. In fact, in certain instances, they draw out unwelcome wild animals. Images of alligators swimming in the Lekki waters during the recent flooding in Lagos were abuzz on social media through the months of July and August.
Snakes, too, are a concern especially during landslides and Hurricanes. In the week following recent Hurricane Irma, parts of Florida were awash in millions of gallons of sewage and in Texas, following Hurricane Harvey, oil refineries and chemical plants have dumped a year's worth of cancer-causing pollutants into the air. In both states, doctors are on the lookout for an uptick in respiratory problems, skin infections, and mosquito-borne diseases brought on by the water and mold the storms left behind.
There is also the mental effect of climate disaster displacements. Stress resulting from it jeopardizes immune systems, and it is difficult to maintain food hygiene in disaster zones. A year after Hurricane Katrina, for instance, residents reported an increase in suicidal thoughts, increasing from 2 percent to 6 percent among the 815 people studied. Post-traumatic stress disorder and depression also worsened. This brings me to the fundamental question of how ready our hospitals and emergency response organisations are for the spate of climate-related health problems that this decade is debuting.
Various recommendations have been made by scholars and public health professionals viz;  improving early warning systems, better engaging disadvantaged communities, developing frameworks to link research, reducing food waste and more research into the links between conflict, instability and climate change, and I verily support them. I will however suggest some first steps.
The health industry in Nigeria clearly has little or insufficient knowledge of climate change, and needs some irradiation to enable them grasp the connection it has with health and quantify the specific effects climate change has on the overall disease burden and on opportunities and effectiveness in the public health. This will help them better mitigate their adverse effects.
There also needs to be a symbiotic and synergised approach from the health and environmental sector, two sectors that seem to be on two far ends of government in Nigeria. The health sector can also use climate information effectively in epidemic early warning systems as useful indicators to support early detection of disease outbreaks and prepare ahead of time for epidemics that are likely to occur. This synergy should importantly include the Emergency response agencies to enable them also be prepared for these disasters and obliterate the rate of climate-related illnesses.
Essentially, climate change is not a game of hide and seek where one can play into the safe zones and eclipse their corner of the world from its balefully warm hands. The health effects of climate change are enormous, and we must first understand and accept that in order to prepare ourselves for solutions. We must also be reminded, however subtly, that with each activity we do to hurt the environment, we hurt our health; individually and collectively. Hence, there must not just be increased ambition, there must be increased action until we can bend the emission curve and slow down global warming.
In the words of UN General Secretary, Antonio Guterres: "This may not be easy at times, but for the sake of today's and future generations, it's the path we must pursue."
Until then, no one is safe.
By Caleb Adebayo