The African Development Bank (AfDB) has announced plans to support Nigeria to access crop insurance, to mitigate the impact of climate change in the country.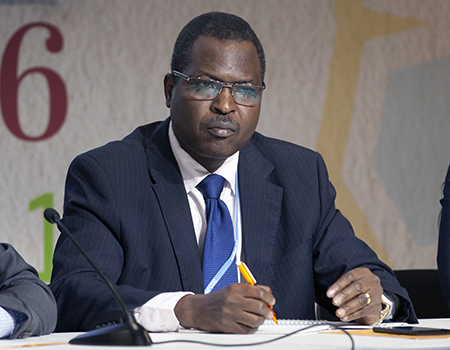 The President of the AfDB, Dr Akinwumi Adesina, announced this in an interview with the News Agency of Nigeria (NAN) in Abuja.
Adesina said that the bank would implement the support under its Second Climate Action Plan for 2016 to 2020.
"When it comes to Climate Financing, what we will do is to support Nigeria, especially to have access to Crop insurance.
"A lot of pastoralists actually needs to have insurance as well because lack of access to water can become a big problem because of drought.
"Also, I have being a big supporter of the need for the global climate financing mechanism to support countries to pay the premium to insure them against catastrophic risk.
"For example, there is a facility, which is called Africa Risk Capacity and this is the Africa Union Facility that allows countries to buy insurance.
"It allows countries to buy insurance and if there is drought and flood, they will pay it back into the confer of government to cover a lot of recovery activities.''
The Boards of Directors of AfDB had, on Nov. 8, approved the Africa Thriving and Resilient: The Bank Group's Second Climate Change Action Plan, 2016-2020 (CCAP2).
The approval of this document is propitious as it echoes at just concluded Climate Change Conference (COP23) in Bonn, Germany.
This is to strengthen the global response to the threat of climate change and achieve the Paris Agreement's goal of keeping global temperature rises to 1.5 degrees Celsius.
According to Adesina, the Chair of the Africa Risk Capacity Facility is the former Minister of Finance in Nigeria, Ngozi Okonjo-Iweala.
"I consider it as unfair that Africa, which has been shortchanged by climate change, is now shortchanged in terms of climate financing.
"It is very important therefore, that the global mechanism for climate should pay insurance for African Countries that are suffering this disproportionate in negative impact of climate change.
"I have reached out as well to President Buhari on this issue because I know within the context of what is trying to push for Lake Chad Basin.
"If somebody pays the premium, if there is any catastrophic event, they will be able to get money from Africa Risk Insurance.
"I have said that Africa Development (Bank) is willing to co-finance the premium payment. I don't want Africa to be short-changed because we are suffering quite a lot from the impact of Climate Change,'' he said.
Adesina, however, said that the international community had bought into the idea and it would also form part of the agenda at the forthcoming World leaders meeting.
"I have discussed it with the former UN Secretary-General and incumbent UN Secretary and I have discussed it with a number of G7 leaders.
"Also, I have discussed it with President Buhari and several African Heads of State; we will continue to push it and look forward to One World Summit in December.
"This is for me a big agenda that I am pushing. I think Africa must have access to financing, to adapt to the impact of Climate Change and mitigate the issue of greenhouse gases emission.
" It will have big impact on our urban centres and rural areas; we have to make our economy more resistant and resilient in face of climate change,'' he said.
By Cecilia Ologunagba