An environmental caucus affiliated to Zero Carbon Africa has embarked on a "adopt a tree initiative" which is aimed at bolstering Africa's commitment to achieving net zero emissions. The initiative comes only weeks after Zero Carbon Africa (ZCA), a continental development organisation keen on improving the health and productivity of vulnerable and underserved populations in Africa, designed a three-month long training and advocacy programme for African youths.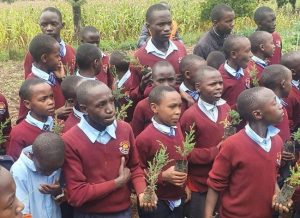 Nancy Oloo, the coordinator of the caucus, said it is time communities came out to protect the environment by encouraging heads of institutions to support learners interested in planting and adopting trees.
"There is laxity in our institutions of learning. Nobody wants to take the initiative as our environment is destroyed. This is the time to reverse the climate change action and take meaningful environmental conservation measures," said Ms Oloo, who is also a agriculture and environmental studies trainer at the Ramogi Institute of Advanced Technology, Kisumu, Kenya.
Speaking at New Creations Primary School, Ndirangu Ngunjiri, a Zero Carbon Africa fellow, and a Managing Partner at Water Mark Consulting, said the caucus intends to plant 2,000 trees in four schools and 800 fruit trees within Elburgon ward, in Nakuru County, even as it readies to roll out fruit trees' planting in all the schools in Molo Constituency.  The caucus partnered with the Area Member of Parliament, Hon. Kuria Kimani, during the "adopt a tree initiative".
"We have taken the initial steps to show learners the way to environmental freedom. Today, we are planting trees and fruit trees in St. Peter's Boys Primary School, Mwangi Muchuiki Primary School, New Creations Primary School and Muchuiki Secondary School," said Mr. Ngunjiri.
Shadrack Agaki, a Lead Climate Change and Food Systems Communications Consultant, says there is an unavoidable link between climate change crisis and food system.
"Tree planting is a basic approach to fixing climate change. Climate action can only be achieved through transformation of the food system. Our communities must make decisions about the food they eat, produce and how it is processed and distributed within the food system," says Mr. Agaki.
Israa Elkhalil, a Youth Climate Justice Advocate, and a member of the caucus, believe learning institutions offer an ideal platform for climate change mitigation since institutions are spread across the nation. He underscores the need for schools to prioritize adoption of trees and actualization of environmental clubs.
"Our focus is grade 4 and grade 5, where each learner will adopt two trees. It is a great way of getting learners involved in climate change mitigation. We must develop an environmental protection culture among our children," says Israa.
In July 2023, Zero Carbon Africa (ZCA) enrolled young professionals from six counties across Africa for an impact programme intended to equip them with the necessary skills and knowledge to become effective champions of the net zero campaign. The 10 Week Learning Tracks offers a comprehensive set of learning concepts covering a wide range of climate related issues.
Mayowa Shobo, the director of ZCA, says the programme which has roped in young professionals from Kenya, Zambia, Ghana, Nigeria, South Africa and Rwanda, intends to enhance the participants' understanding of climate science, urban resilience and climate action impact interventions.  He says the "adopt a tree initiative" is one of the many initiatives supported by ZCA and Africa must realise climate change solutions should be home grown.
"This is an African project. We seek to improve the knowledge and capacity of African youth about climate action and their roles in the implementation process, raise their networks to domesticate, engage, and monitor the implementation of net zero climate action plans," said Shobo.
The continental environmental outfit expects young professionals to explore the intersection of climate change and human rights, understanding the implications for vulnerable populations and pushing forward urban resilience in line with adaptation strategies, even as such strategies are geared towards a possible low carbon future.
During the tree planting exercise, learners, parents and teachers were recruited to help plant trees on the school grounds. The caucus emphasised it was a great way to build community spirit and to teach children about the importance of not only planting trees but also taking care of them.
The "adopt a tree initiative" comes only two weeks after Africa Climate Summit held in Nairobi where African leaders attending the inaugural event stressed the importance of decarbonising the global economy for equality and shared prosperity.
The continent, according to a statement read by Kenya's President, Dr. William Ruto, suffers from prolonged droughts, devastating floods, wild and forest fires, which continue to cause massive humanitarian crisis with detrimental impacts on economies, health, education, peace and security.
Ndama Nakashole, an environmental journalist based in Namibia, says climate change is the single greatest challenge facing humanity and the single biggest threat to all life on earth.
Climate actors from Africa have consistently asserted that Africa is not responsible for global warming, but bears the brunt of its effect, impacting lives, livelihoods and economies. The actors have emphasised that the continent possessed the unique capacity and the zeal to be a vital component of the global solution to climate change.
By Stephen Misori, Misori.village@gmail.com