Gov. Abba Yusuf of Kano State has warned residents against indiscriminate logging or cutting of trees in the state.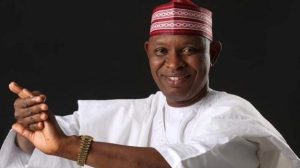 Yusuf issued the warning at the Central Eid Ground, Kofar Mata, in Kano Municipal Local Government Area.
He spoke while planting over 1.28 million seedlings of trees to mark the 2023 Tree Planting Campaign in the state.
Yusuf warned that anyone found doing so without approval from the state Ministry of Environment and Climate Change would be arrested and prosecuted.
He explained that the campaign, scheduled to last for two weeks,  would cover Amana City, Kwankwasiyya City, State Road, Ahmadu Bello Way, Hadejia Road, Gwammaja Layin Bukar Makoda to Masaka Primary School, Unguwar Dabai and Chalawa Industrial area.
Others are the GGSS Jambaki/Bela Erosion site, School of Health Technology, Kano; and GGSS Kuka Bulukiya.
He said that seedlings would be distributed to communities, institutions, schools, religious groups, student unions and worship centres, among many other public places.
"Let me reiterate that our administration has been giving priority attention to the environmental sector especially on the issues of biodiversity conservation, restoration of degraded lands, addressing climate change issues.
"Fighting the menace of desertification and desert encroachment, pollution control, environmental sanitation, prevention of flooding, erosion prevention and control, among others.
"Some of the interventions and programmes put in place to address aforementioned challenges by my administration include the sustained support to Sustainable Kano Project (SKP) and Kano State Afforestation Project (KNAP), with a view to ensuring the provision of sustainable social development to the doorstep of the citizenry as well as promoting the planting of more trees and management of forestry plantations across the state," Yusuf said.
He tasked the Ministry of Environment and Climate Change to step up efforts in sensitising stakeholders on the importance of tree planting.
"Kano State Government has keyed into the Agro-climatic Resilience in Semi-Arid Landscape Project (ACReSAL) as part of efforts towards mitigating climate change challenges.
"Sustained efforts in harnessing areas of collaboration with development partners that will come and invest in the Environment Sector in view of enormous responsibilities saddled with government.
"Efforts are ongoing for the provision of Erosion Control Measures at Rarin Karas/Danguguwa Dawakin Tofa LG, Bulbula in Gayawa Nassarawa Local Government as well as provision of water conservation structures and minor irrigation facilities at Dambazau/Fajewa in Takai LG, Yar Titi in Shanono LG, Yan Sabo in Tofa LG, and Dawan Kaya/Safame in Makoda Local Government, respectively, under ACReSAL Project," he said.
He said that the administration is working round the clock to re-establish Refuse Management and Sanitation Board (REMASAB).
The governor said: "We have repaired more than 10 equipment and we have retrieved others which were sold illegally to cronies of the last administration, in addition this administration will soon commission new equipment for the use of REMASAB.
"All these are meant to ensure that the thousands of tons of waste generated in Kano is being managed in an environmentally sustainable manner and in line with dictates of global best practices.
​"I will like to call on the general public to take responsibility of preserving and management of the trees that will be planted today because I am passionate about achieving greener and cleaner Kano."
Yusuf added: "I therefore urge you all, to cultivate the habit of planting trees so that we can jointly reduce carbon footprint in the state.
"I wish to also put it on record that Kano State Government will not relent in its effort in bringing to book any resident found wanting in discriminate felling of trees without obtaining an authorised permit from the State Ministry of Environment and Climate Change.
"I wish to at this point commend the effort of Magajin Garin Kano, Alhaji Muhammad Nasiru Wada, for the wonderful support of 100,000 seedlings to the Government and people of Kano as part of efforts towards mitigating climate change and protecting our environment."
The state Commissioner for Environment and Climate Change, Alhaji Nasiru Garo, said the event was aimed at increasing the adaptive capacity towards reducing the negative impact of soil erosion, climate change and enhancing biodiversity.
Garo said: "As we may already know, human activities such as bush burning, illegal felling of trees is continuously putting pressure on the already fragile ecosystem thereby threatening food security, among other negative climate impacts.
"Every piece of nature is significant in some way and contributes equally to keeping the ecosystem balanced.
"One of the most important of all these natural items is the 'Tree', which offers us numerous advantages. Trees are carbon sinks that play the role of storing carbon dioxide in their roots, woods and leaves.
"Carbon dioxide and oxygen are exchanged in a whole cycle in plants. Thus, more tree planting would aid in lowering the atmospheric concentration of carbon dioxide."
"The more trees planted, the cleaner the air will be, and the air would be pure and free of toxins if there were sufficient oxygen.
"When the weather is chilly and windy, the trees planted around the edge operate as wind breakers.
"The roots of the trees protect the soil, while their leaves break the force of the wind and lessen the effect of rain on the ground. As such, trees deal with soil erosion, capture rainwater, and monitor storm water flow and sediment accumulation.
"In the end, I want to say that trees are excellent for people, and they are natural partners for healthy living," the commissioner said.
By Aminu Garko