About 80 percent of enlightened Nigerians lament that they are hard hit by climate change, with farmers and fishermen – representing two major employment sectors – being particularly impacted. Climate change interferes with all aspects of life including education.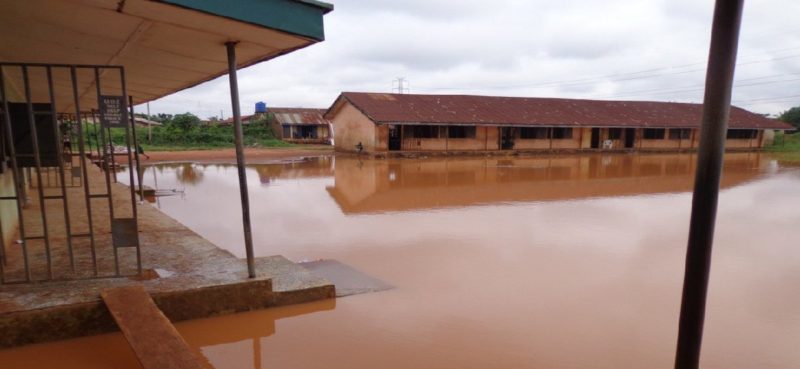 In Nigeria, especially in some states, many children are absent from school during heavy rains, especially in the villages where there are no means of transportation. Such absenteeism obviously affects children's academic performance. Climate change particularly affects women and girls. In some places, girls are kept at home doing domestic chores while boys were allowed to go to school. If there is drought, it is mainly women and girls that are responsible for collecting water – a burden which may also prevent them from either attending school or taking their school attendance seriously.
Serious drought leads to food scarcity, which leads to hunger, which in turn affects the ability of learning of children. Children often have to move with their families to places where there is safety from flooding, which also affects their education adversely by interrupting their studies and potentially increasing their distance from available schools. Children's right to receive an education also results in damage to houses, school buildings and other infrastructures such as roads and bridges. In 2014, some school premises were used as temporary settlements for disaster victims. In Kilosa, for example, two primary schools were closed for weeks in order to provide settlements for flood victims. Such closure also impacts their capacity to study at home.
Many Nigerians are aware that some changes occur in the environment year in and year out but lack knowledge of the reasons for such change. They are also aware of increased disease, food shortages, and extreme flooding at various localities during certain periods of the year. Yet there have been no efforts to reduce the occurrences or avert them altogether. There is a need to educate the public of the signs of climate change as well as management and prevention strategies.
Many of us are aware that climate change is severely affecting livelihoods in Nigeria through changes in rainfall patterns. About 70 percent of the farmers interviewed expressed that their crops were washed away by floods, eliminating their yields for consumption or sale. In some part on Nigeria fishermen were not spared since they could not catch as much fish as they used to and the environment was not conducive for human life since all the debris washed away by water or flood was deposited at various places. About 70 percent of them at various fishing ports lamented that they suffer this disaster yearly but do not have the solution to their problems.
In Nigerian schools, practical demonstrations are needed in order for children to actively use their acquired knowledge and skills to improve society. Teachers should also demonstrate the importance of agriculture in the growth of the nation. In the fishing ports where fish farmers and their children reside, experts should be sent to demonstrate the modern way of processing and preserving fish both for local consumption and for exportation. Children should be thoroughly guided so as to enable them do the same in their various localities.
By Olumide Idowu (Team Leader, Climate Wednesday; @OlumideIDOWU)