Nigeria's climate has been unstable over the years, evident in: temperature rise, rise in sea level and flooding, variable rainfall, oil spillage, drought and desertification, land degradation, pollution, security impacts, decrease in food yield, limited electrical power supply, loss of biodiversity and erosion among others.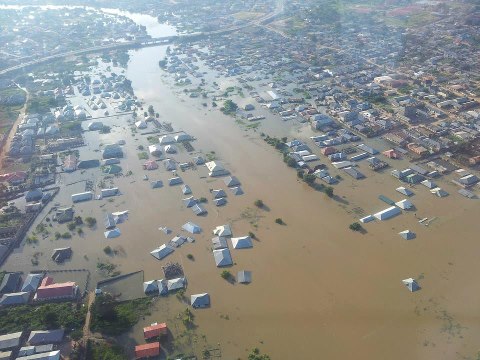 In the spirit of the International Youth Day, I want all youths to be reminded of climate change and its impacts as reality, which calls for action in order to salvage our environment and our future.
The intensities and duration of rainfall have increased, leading to flooding in many places in the country. Rainfall variation is projected to continue to increase and this can be attributed to rise in precipitation as well as sea levels in southern areas.
Increase in rainfall will not only cause floods but will also affect school children, because some of them will miss school due to rain. Northern Nigeria experiences drought due to a decline in precipitation and rise in temperature.
According to the Federal Ministry of Environment, temperature has risen significantly since the 1980s. climate projections for the forthcoming years reveals a significant increase in temperature over all ecological zones. Climate change is negatively affecting electrical power supply in Nigeria, through impacts on hydroelectric generation which is the major power source in Nigeria. This type of generation is sensitive to the amount of, timing and geographical pattern of precipitation.
Farmlands and roads are affected by erosion which can be attributed to large water run-offs and blockage of water passages due to indiscriminate dumping of solid wastes. The Niger Delta area is suffering from oil spillage which impacts negatively on agriculture and aquatic life.
Climate change also poses security threats to Nigeria through conflict over resources. This can be attributed to water and food scarcity. Desert encroachment, depleting vegetation and grazing resources in the Sahelian zone has prompted massive emigration of people to areas less threatened by desertification which could be a cause for communal clashes among herdsmen and farmers as well as inter-ethnic clashes.
The negative effects caused by these impacts affects income groups, all classes, occupations, age and gender in various ways. Climate change also poses health issues to the populace of the country. If greenhouse gas emission is not curtailed, these problems will continue to grow and affect the socio-economic well-being of Nigerians. On the other hand, curtailing greenhouse gas emissions which is the major cause of the climate crisis will ensure a green and healthy Nigeria.
The following measures can be taken to salvage the earth as well as our environment from the impacts of climate change:
Shifting away from the use of fossil fuels to renewable sources of energy like solar energy in order to reduce the CO2 threshold.
Enacting laws and creating policies that will ensure reduction in CO2 threshold like carbon pricing.
Enforcing laws that prohibits deforestation and promote tree planting on the order hand in order to help in reducing the CO2 threshold as well as land degradation.
There should be good waste management practices to prevent water passage blockage and indiscriminate dumping of wastes. This will help in reducing erosion and ensuring a serene and clean environment.
Laws on oil spillage should be enforced and areas affected already should be cleaned to make the lands cultivatable.
Indigenes should be encouraged to learn about their immediate environment, climate issues affecting their immediate environments and how to mitigate them.
Climate education to people of all ages will bring about good values which will translate to good attitudes and right actions.
Give presentations to friends, families, colleagues at workplace and groups (formal, social, religious, and political cycle) on climate change and its impacts.
Agricultural education and extension curriculums should incorporate the knowledge and experiences of rural/indigenous people who are adversely affected by climate change the most.
Inclusion of climate change in the Nigerian educational curriculum is essential for a positive response to climate change and a sustainable development.
By Zebulun Dauma Maiwada (Climate Reality Leadership Corp,)