Gov. Abdullahi Ganduje of Kano State on Monday, February 13, 2023, in Abuja identified climate change, weakness of state institutions and lack of infrastructure as factors fueling farmers and herders clash in the country.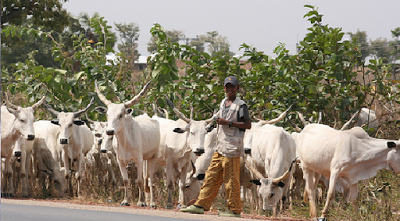 He said this at the National Conference on Livestock Reforms and Mitigation of Associated Conflict hosted by the Kano State Government.
The conference had as its theme "Sustainable Livestock Reforms and Mitigating Associated Conflicts in Nigeria".
Ganduje said the conference was to provide a platform of restraining the movements of cattle, boost livestock production and control the country's deadly herder-farmer conflicts.
Over 500 professionals in different fields of development including the academia, development partners, agro industry, livestock management, veterinary and conflict resolution attended the event.
The Kano State Governor thanked members of the conference organising committee for working tirelessly and particularly commended Prof. Attahiru Jega, its chairman, for the leadership he provided.
He said the conference grew out of the need to provide solution to the age-long conflict between herders and farmers and also propose way forward to economic development of the sector.
He said the theme of the conference was relevant in the current scheme of events, given the appropriateness of the time when Nigeria had been persistently experiencing other security challenges.
Ganduje noted that for many years in the country, farmers and cattle herders had been in conflict over land rights.
"But the disputes have reached crisis levels in recent years, killing thousands of people and displacing many thousands more with their homes left in relics by attacks.
"The livelihoods of farmers and herders have, historically complemented each other.
"They exchanged produce with one another and when conflicts arose, they were addressed by traditional institutions and existing conflict resolution mechanisms.
"However, over the past few decades, a wide range of factors have resulted in tensions often ending in deadly violent conflicts between the two groups," Ganduje said.
He said one of such factors was climate change which resulted in desertification, adding that soil erosion had also endengered competition over natural resources.
This, Ganduje said, had pushed herders to venture into new areas to seek pasture for their herds.
"Drifting away from traditional migratory routes and encroaching on farming lands has fueled negative perceptions, contrasting sedentary communities versus nomadic ones often stigmatising the latter as cultural and or religious intruders.
"The climate change shrinks the amount of arable land, which is contributing to cycles of violence and putting additional strain on relationships among farmers and herders.
"While herders have had to change their trans-humance routes along which they move cattle from one grazing ground to another on a seasonal basis; farmers, on the other hand, say herders are intruding on their land," Ganduje said.
He added that a second element to consider was the weakness of state institutions and lack of infrastructures.
This, he said, had resulted in the inability of governments to effectively control their territories, enforce the law and provide formal avenues for peaceful resolution of disputes.
Ganduje said politics of trans-humance also highlighted the interplay among political elites which could manipulate political tensions between herders and farmers.
This, he said, was usually done to advance their agendas, expand land ownership and take control of large herds for their economic and political gains, consequently threatening livelihoods of both communities.
He expressed optimism that topics selected for discussions during the conference would hopefully bring to light key factors driving the continued crisis.
He said while the teething problems between herders and farmers that were ignored over the years snowballed into armed bandits ravaging the country, it was still not too late to work out plans and strategies to reduce the conflicts.
He said that the Rural Grazing Areas (RUGA) policy or ranching, which had been deliberately politicised, remained the only option that would go a long way in mitigating existential problems.
This, he said, was especially so because pastoralists would have lands to graze without cattle encroaching on people's farmlands.
"We have gone far in the establishment of Ruga Settlement in Kano, already, 25 housing units out of the projected 500, situated on 4, 413 hectres of land at Dansoshiya Forest in Kiru local government have been completed and handed over to the herders.
"Replica of the houses will be displayed during an exhibition planned as part of this conference.
"Modernising the livestock sector is not only key to resolving the herder-farmer conflict.
"But was envisaged that this economic investment pillar will support and strengthen the development of market-driven ranches for improved livestock production through breed improvement and pasture production," Ganduje said.
He added that there was the need for aiding information, education and strategic communication on the development of grazing reserves to mitigate the consequences of these conflicts.
He said that it was also very important that we must avoid the dangers of allowing these conflicts to harden to religious or ethnic conflicts.
"This is the responsibility of political, religious and all other parts of our leadership elite in Nigeria.
"We must also intensify existing collaboration with our neighbours especially border communities, to prevent the movement of small arms, and disarming armed pastoralists and bandits who go through our borders daily.
"Predominantly nomadic pastoralists should be persuaded to move their cattle into established ranches and public grazing reserves.
"Where breeding farms and other mechanised livestock management practices would bolster the sector's productivity," Ganduje said.
He suggested that government should rebuild social capital at the community level to promote mutual trust, confidence building, and consolidate the peace process.
He added that the law and order pillar should be used to support the strengthening of legal frameworks for improving livestock production, peace and harmony.
He further expressed optimism that the conference would produce a working document that would go a long way in mitigating conflicts between herders and farmers in the country.
He gave the assurance that the Kano State government would study document from the conference and collaborate with the Federal Government and other key stakeholders for implementation.
By Emmanuel Mogbede