A Native American village in Alaska has voted to relocate its entire population of some 600 people due to the threat of rising seas, officials have said.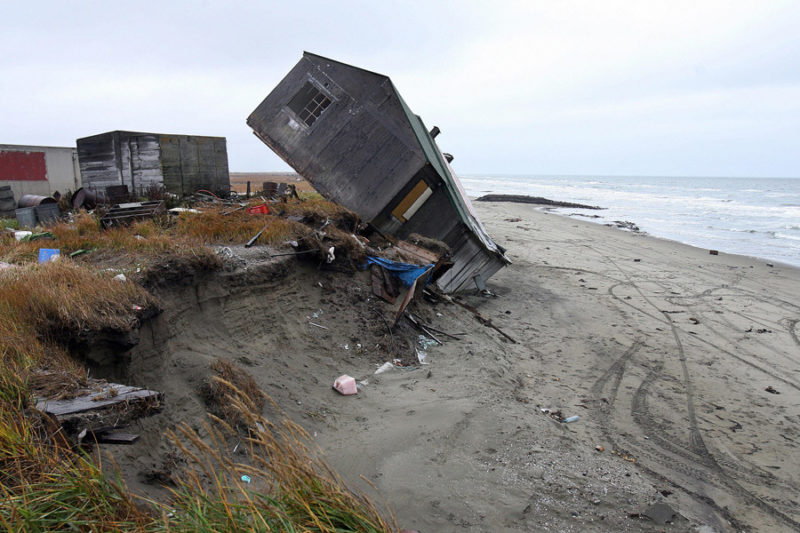 Shishmaref, located on a tiny island north of the Bering Strait that separates the United States and Russia, is losing up to 10 feet of shoreline each year, according to research by the U.S. Army Corps of Engineers and Alabama-based Auburn University.
Shishmaref is one of dozens of indigenous villages in Alaska that face growing threats of flooding and erosion due to global warming, according to a report by the U.S. Government Accountability Office.
Shishmaref residents, who are members of the Inupiat tribe, voted 89 to 78 to relocate, said Donna Barr, secretary of the Shishmaref Council. Voting took place last week, but the official count has not yet been formally certified and a handful of absentee ballots remain unopened.
This is not the first time Shishmaref residents have made such a decision. They voted in 2002 to relocate but that effort stalled.
A few other U.S. communities in Alaska, Washington and Louisiana have decided recently to relocate as well due to climate change and shoreline erosion, according to the Washington, D.C.-based Arctic Institute.
Several others are likely weighing options to move, said Christina DeConcini, a spokeswoman for the Washington, D.C.-based World Resources Institute.
"It's not going to be the last time that the United States has to deal with communities severely threatened by climate change and impacts and whether or not they can stay there," she said.
In Shishmaref, Tommy Richter, pastor of the Lutheran Church, the island's only church, said the community was torn over leaving its heritage behind.
"There are people here who have been here for generations and don't want to leave at all," he told the Thomson Reuters Foundation.
The cost of relocation has been estimated at some $180 million, and authorities are seeking state and federal funding, according to local media.
Where to relocate remains to be decided, the clerk said. Two vacant sites on the mainland are being considered.
Relocation could take more than 10 years, according to a private feasibility study conducted for Shishmaref and published in February.
The island, which is seven square miles (18 square kilometers), lies five miles off the mainland. Its economy is based largely on fishing and hunting.
Scientists attribute coastal erosion in Shishmaref to global warming that has thawed sea ice that once shielded the island from storm surges. Its permafrost, the layer of permanently frozen soil on which it is built, is melting as well.
The village already has moved several homes and a National Guard Armory away from its coastline and built sea walls that have had limited success, according to Alaska authorities.
In March, the U.S. Department of the Interior announced $6.5 million in funding to help Native American communities find ways to deal with climate change.
Since 2014, more than 140 tribes and tribal organisations have gotten government funding to help address the impacts of global warming, it said.
By Sebastien Malo (Climate Central)