Some people see the effect of climate change as only experiencing heat instead of cold weather but, to a smallholder farmer like Comfort Oyadeji, the effects are somewhat devastating.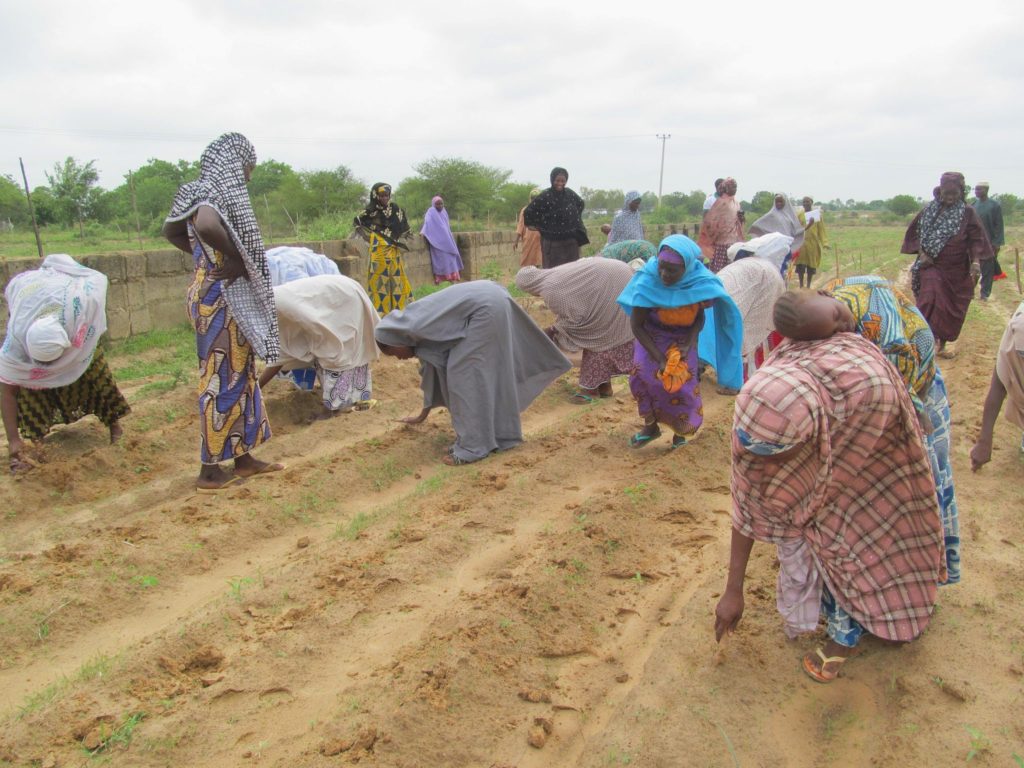 Irregular rainfalls cost her 100 per cent of her investment in her agricultural enterprise in the 2020 farming season, according to her.
She said: "I did not make any profit on all my investments. I planted more than twice and I recorded the same output.
"After the lockdown, we planted maize because the planting season was still on but lack of rainfall prevented our plants from growing as expected.
"My colleagues and I were still recuperating from the effects of the lockdown occasioned by COVID-19 pandemic before being hit in the face by a greater demon that we could not fight; the climate change. We can only learn to adapt to it."
Oyadeji, a member of the Smallholder Women Farmers Association Of Nigeria (SWOFON), has her farm cited at Oluyole Local Government Area of Oyo State.
There is no gainsaying climate change has wreaked adverse effects on the fortunes of Nigerian farmers; the fate of smallholder female farmers, in particular, is worrisome as many of them lament huge losses on investment in the 2020 farming season.
Crop plantations have been destroyed culminating in a hike in the prices of food and other commodities to the detriment of the citizenry who have to endure higher demand than supply of food items.
For instance, the inflation rate through the third quarter of 2020 was pegged at 14.89 per cent by the National Bureau of Statistics.
The stack realities of this is that consumers bought food items in 2020 at double or triple their prices in 2019.
"We ploughed, tilled and applied chemicals to the plants but the results were the same; no growth, no yield.
"All we did during the dry season was a wasted effort. We are praying to God for regular rainfall to help our plants grow as they should,'' said Oyadeji.
Likewise, Modupe Olayinka, a smallholder farmer in Akinyele Local Government Area of Oyo State, lamented that the irregular rainfall pattern caused her severe crop yield.
She said: "We used the little profit we earned for domestic purposes; taking care of our homes and children in particular."
Olayinka argued that the lack of government support for smallholder women farmers has aggravated their woes, stressing that there is no end in sight to their challenges. She warned that severe poverty and hunger will ensue by their present predicament.
"With the way things are, I don't think prices of food items will reduce,'' she said.
This is not the first time smallholder women farmers have complained about the severe effects of climate change on their agricultural enterprise.
Their situation is, however, aggravated by the lack of support from government at all levels to assist them in adopting irrigation farming.
Suleiman Adedoye, a farm labourer, attested to their plight stressing that there was no return on their investments in the 2020 farming season due to irregular rainfall.
But many of them, noted Adedoye, are undeterred by the challenges imposed upon them by climate change.
"They still want to plant crops hoping for a better outcome not minding how much had been lost to previous farming,'' he said.
Experts, having underscored the role of smallholder women farmers in agriculture, have urged the government at various times to give financial support to them and aid their adoption of modern farming practices.
Further findings revealed that most smallholder farmers need between N50,000 to N100,000 to cultivate their farms at subsistence level; they also need to earn enough to feed their families as most of them are breadwinners in their family.
Considering the fact that most of these smallholder women farmers contribute up to 75 per cent to food production in Nigeria, the intervention is now or never if the country's economy is to be bolstered, argued experts.
At the moment, each female farmer joins cooperatives to raise capital for her business aside from the financial support often promised by SWOFON. Most smallholders, however, complain that they are weary of SWOFON's unfulfilled promises.
But in spite of their losses and the challenge of inadequate funding, several female farmers are undaunted in their bid to turn their fortunes around.
For instance, Oyadeji is willing to adopt solar irrigation and other technology available by renewable sources.
However, this would require urgent government intervention, argued Ukah Ibe, Chief Executive Officer (CEO) at Nexgen Energy, a renewable energy provider.
Ibe said the effect of climate change can be mitigated if government policies support the use of technology available in renewable sources.
To support smallholder female farmers, Ibe suggested that the government should give them subsidy to encourage uptake in agricultural solar applications.
He said: "In In India, the government gives subsidy for solar irrigation. Also, India has a law guiding building of property that is more than one storey building; you need to incorporate solar water heater just to ensure that you reduce pressure on the grid supply.
"There are a lot of climate friendly inventions that could help mitigate the adverse effects of the climate in agriculture we call it productive use activities.
"In China also, the government gives grid tax using solar energy as a form of subsidy in energy tariff.
"It means there is a public solar power plant and whatever it generates is let off from what people pay in the form of an energy bill to the grid provider.
"These are interventions that could be deployed to ensure we reduce the impact of poverty and the impact of climate on agriculture as well.''
Ibe argued that the private sector would always be there to take advantage of the market situation, and this would give rise to the availability of lots of renewable energy products in the country.
Smallholders note that concerned government officials ought to make a policy statement on how to address the challenges imposed on the female farmers by climate change.
By Ibukun Emiola