TotalEnergies Marketing Nigeria Plc on Tuesday, September 19, 2023, carried out clean up and tree planting in two secondary schools in Edo State as part of its climate action.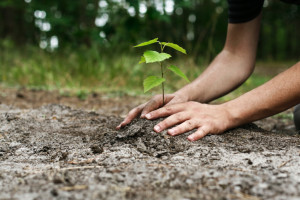 The activities were to mark the 2023 World Clean Up and Environmental Challenge.
In his separate addresses at Emotan and Idia colleges in Benin, the Managing Director of the company, Dr Samba Seye, said the initiative was ongoing in Edo, Kano and Lagos, to promote climate actions while provoking environmental consciousness among communities and young persons.
Seye, who was represented by Omotayo Hassan, Renewable Explorer for TotalEnergies, said the event was implemented in collaboration with the Nigerian Conservation Foundation (NCF).
"The objective of this initiative is to meet some of the United Nation's Sustainable Development Goals by demonstrating TotalEnergies commitment to protecting the environment.
"We do this through employee volunteering, awareness creation on the journey towards a circular economy, and educating our communities on the need to protect the environment and leave behind, a sustainable world for future generations.
"In our transformation towards cleaner energies, we are constantly embracing initiatives that support biodiversity and environmental preservation," he said.
According to him, 100 economic trees are being planted in six schools in Edo, Lagos and Kano as a way to join the rest of the world to clean up our environment and rid it of polluting waste.
The managing director, however, called for heightened environmental consciousness among the public, noting that the climate was begging for sustainable action from every individual.
In her remark, Mrs Constance Iluebbey, Principal, Emotan College, said that the tree planting project was laudable and alligned with one of the pillars of the EdoBEST education reform in the state.
"I am excited that the tree planting initiative is being done in my school because the initiative is in line with one of the pillars of Edo educational reform, which is to keep the environment clean and green.
"We will ensure that the trees planted today are well nurtured by the head of the agriculture department and students to enable them to grow to maturity," said the principal.
By Usman Aliyu and Joy Odigie