Speaking to G7 climate, energy and environment ministers on Thursday, May 26, 2022, UN Climate Change Executive Secretary Patricia Espinosa called on G7 nations to maintain a firm commitment to multilateralism.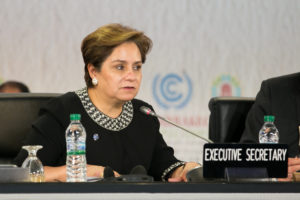 "If promises are not kept, trust will be undermined; and without trust, no collective action is possible," said Ms. Espinosa.
The G7 environment, climate and energy ministers – from Canada, France, Germany, Italy, Japan, the United Kingdom and the United States of America – met in Berlin, Germany, from May 25 to 27.
The meeting took place against a backdrop of accelerating climate impacts and massive geopolitical challenges.
"At our current trajectory, global temperatures will rise 3.2C by the end of this century," she said.
The commitment to meeting the central Paris Agreement goal of holding global average temperature rise to below 1.5C through the Glasgow Climate Pact entails accelerated action and increased climate ambition.
The world's landmark agreements to collectively tackle climate change – the United Nations Framework Convention on Climate Chage, the Paris Agreement and the Glasgow Pact – were the result of multilateralism.
"They showed a willingness to find common ground and to overcome disagreement," said Ms. Espinosa. "And, above all, the will to shape together a better future for all."
Ms. Espinosa laid out a concrete list of priorities, specifically on issues related to national climate plans, and on finance and adaptation.