September 21 of each year is a day set aside for worldwide action on the solid waste problem and, tagged "World Cleanup Day", attracts some 380 million participants, representing 5% of the world's population.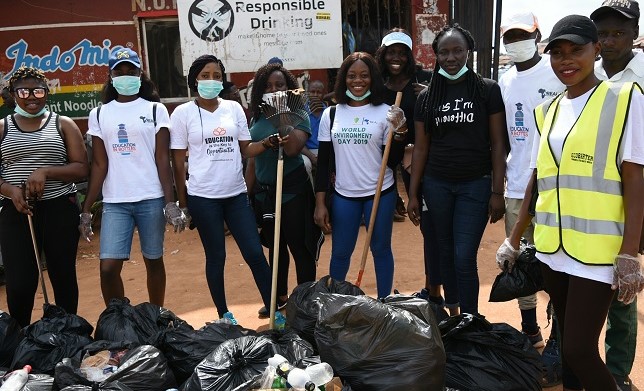 The day's activities include litter picking, awareness creation and sensitisation among people in rural and urban areas in various parts of the world.
Statistics gotten from Let's Do It World's social media handle revealed that over 169 countries participated in the 2019 World Cleanup Day. Nigeria was not left out, as major cities such as Lagos, Abuja, Port Harcourt, Ibadan, Kaduna, and over 20 others joined in one of the largest civic actions in the world.
Some of the major organisations that took part in this year's clean-up exercise in Abuja, Nigeria, were Pick That Trash, Let's Do It Nigeria Campaign, Junior Chambers International (JCI), EcoBarter, SustyVibes, Sustainable African Cities and Communities Initiative, AREAI, and EcoWarriors.
Others included Green Light Initiative, EarthPlus Africa, Bonanaija.com, WeMove Prosthetics, EdenWorld Initiative, Ecology Students Forum, Young Leadership Association of Nigeria, Gombe Goes Green, Fiepa International Consult Limited, Midel Management, Climate and Sustainable Development Network of Nigeria, and Abuja Environmental Protection Board.
Pick That Trash and partners championed the clean-up and sensitisation of the residents, business owners, and individuals in two locations in Abuja, Jabi Motor Park and Nyanya Motor Park, having identified that it is highly necessary to sensitise motor park users on the need to have a clean, green and litter-free environment. Over 60 volunteers turned up at both locations for the day.
The meet-up was 8:00am while the cleanup and sensitisation began by 8:30am with the volunteers splitting into groups for the exercise. The authorities at the motor parks were not left out as they coordinated traffic while the volunteers moved around and helped pack some of the litter into the trash bags. The cleanup activities included sweeping, gathering and picking of litter, cleaning of gutters in and around the parks. The volunteers used gloves, nose masks, rakes, brooms, waste pickers, to ensure that the job was done effectively without any health issues.
The immediate past President of JCI Abuja Unity, Mrs Niniola Grace, said: "To have a healthy and beautiful environment, we all have a role to play at ensuring proper waste disposal. JCI Abuja Unity, like other organisations, came out to advocate for a cleaner society by participating in the Let's Do It Campaign, and yes, it is possible to clean the world in one day."
Attairu Bala, the President of JCI Aso, noted: "The World Cleanup Day that we (JCI) are a part of in collaboration with other NGOs and volunteers in Abuja is a revalidation of the fact that active citizens can proffer great solutions to community challenges by engaging stakeholders and the community. The popular Jabi Park felt our impact as we didn't just clean the environment but sensitised them on the need to maintain a clean environment."
Rita Idehai, CEO, EcoBarter and one of the organisers of the cleanup, pointed out that while cleaning up and sensitising people on the need for a clean environment and how to properly sort waste at source is very commendable, people still litter because there is a very wide infrastructural gap.
She said: "It is sad that, as big as Jabi Park is, there is no waste bin. The people are clamouring for provision of waste bins and other cleaning materials and so we also wish to call on the local government and Abuja Environmental Protection Board to please provide adequate waste infrastructure for communities and areas such as Jabi Park."
Aniebiet Obot, who coordinated the Nyanya Motor Park cleanup, urged government to constantly engage park users on the benefits of keeping the environment clean because a major feedback he got from the drivers at the park was that the travelers are often the ones who litter and they get away with it because they may use the park just once. He stated that posting signs or infographics information on the harmful effects of littering, and ensuring that drivers, food sellers and other business owners within and around the parks have bins, will go a long way in keeping the environment clean. He called for stringent laws and enforcement to curb littering in the park.
While thanking individuals, media organisations, NGOs and CSOs who turned up, Hadiza Jimoh, a volunteer with Pick That Trash, stated that she was very excited to see young people come out en-masse to contribute their quota towards cleaning up the environment. She described it a laudable and selfless act.
She also appealed to the Abuja Environmental Protection Board and the Federal Ministry of Environment to make available trash cans and necessary cleaning equipment to facilitate the continued clean-up of the park by its personnel.
She opined that environmental education and awareness needs to be carried out often, as a panacea of indiscriminate waste disposal and management in the country.
In his remarks, Mr Olajide Idowu, Chairman of Jabi Motor Park, commended the organisations and volunteers. He said that, although they also carry out cleanups two Saturdays in a month in the park, their efforts are not enough due to the large influx of people every day and at night too. He stated that the major problem they are facing is the need for bigger dustbins to serve the population who come to the park for one purpose or another.
Adesuwa Obasuyi, Executive Director of Sustainable African Cities and Communities Initiative and the Coordinator of the Jabi Cleanup, praised the management of the park for their kind words and cooperation, while advising them to continuously keep their environment clean to avoid diseases and to make the park attractive for people who come in for one reason or the other. She stated that this year's clean-up was particularly impactful because the plastic bottles that were collected by the volunteers were donated to AREAi for their Education-in-Bottles Project.
Joshua Uwagboi, a volunteer with Pick That Trash, said that picking trash and sensitising people, especially in public places such as the Jabi and Nyanya Motor Parks, is a powerful tool in waste management. He enjoined people to always join cleanups and pointed out that activities like this make a lot of difference in the short, medium and long terms if pollution is to be defeated.
By Adesuwa Obasuyi