The Lagos State Government said on Friday, March 2, 2018 that it would phase out the use of plastic bottles in the state by 2023.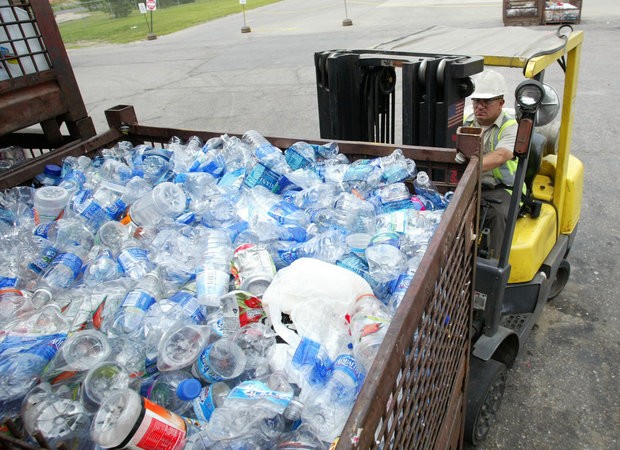 Mr Adebola Shabi, the Special Adviser to Gov. Akinwunmi Ambode on Cleaner Lagos Initiative (CLI), made the disclosure in an interview with the News Agency of Nigeria (NAN) in Lagos.
Shabi said that plastic bottles, also known as pet bottles, needed to be phased out because they could hardly degrade in the environment.
He said that it could  take over 500 years for the bottles to degrade, thereby causing environmental (plastic) pollution.
"In the world now, it is called plastic pollution because they end up in the ocean and affect aquatic lives; they also affect water transportation," he said.
"The official said that one of  the aspects of the Cleaner Lagos Initiative was recycling.
"In the past, 97 per cent of our waste were buried in the landfill; only three per cent were recycled; but we want a different ball game.
"We want to encourage our youth, investors, to go into recycling because some of what we called waste are not really waste, there are things/products we still get from them.
"We want to encourage less waste to the landfills; that is why we are calling for recycling of pet bottles, papers, used phones and a lot of things.
"We are working seriously on a project to see if we can come up with core starch and polymers to see how those ones can degrade in the environment easily," he said.
Shabi called on local investors to come up with proposals, adding that the government would encourage them on the technology to use.
"We mean technology that will work with the  environment," he said.
He said that there were plans to ensure that by  2020, only 30 per cent of waste in the state would end up in the landfills, while 70 per cent would be recycled.
According to him, by year 2025, Lagos wants three per cent of its waste to go to the landfills and 97 per cent be recycled and reused.
"That is why we have been working to educate people on how they can make money through waste-to-wealth.
"In the past, we were exporting the recyclable materials to China; it got to a stage by mid last year, China stopped the import of the recyclable materials, but we can also recycle them here.
"Pet bottles, when recycled, can be added to asphalt to solidify road construction; it can also be used in making textiles."
"The official told NAN that pet bottles could  also be recycled to make diesel, while cardboard papers could be used and recycled to make tissue paper.
"Look at the issue of electrical/electronic waste that have lived out their lifespans; when we are not using them any longer, they end up in the garbage.
"When you recycle some of these telephone sets, you will get precious metals like gold, palladium, copper and silver; so, why do we call them waste, when they can be recycled?" he asked.
The governor's aide said that the wood waste, also known as sawdust, could turn to energy after going through synthesation and gasification.
He said that the benefit of biogas was to reduce dependence on the fossil fuel.
Shabi said that the government also desired to recycle waste from animals and poultry, noting that more  than 6,000 animals and 100,000 poultry were slaughtered in the state daily.
According to him, the government has thrown it open to intetested members of the public to come up with ideas on recycling.
"We have been encouraging the youth to come out. We have a lot of used tyres around the streets.
"When you have these tyres, the metals from them are taken out and can be used for fencing, and the rubber will be shredded and be added to asphalt or bitumen for road construction.
"It solidifies road construction. We have been bringing all these things to Lagosians; so, they should be looking at a way of partnering with the government, and government is providing the enabling environment for everyone who wants to come into the business," he said.
By Florence Onuegbu