As a step towards ramping up clean electro-mobility in Europe, Deutsche Post DHL Group and Ford have unveiled new electric vans used for parcel delivery in German cities, with at least 2,500 electric "StreetScooters" to be in service by the end of 2018. The vehicles will be powered by electricity from renewable forms of energy such as solar and wind.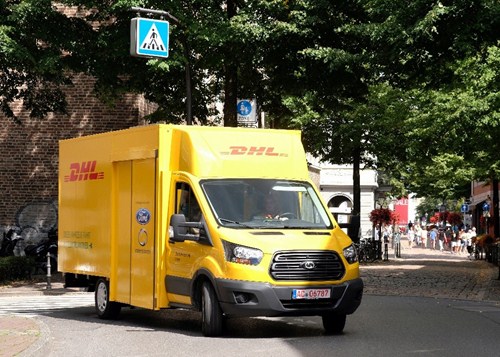 The transport sector is responsible for 23% of carbon dioxide emissions globally, and that percentage is expected to grow unless action is taken. A rapid shift towards electro-mobility is crucial to reducing greenhouse gas emissions, and to achieve the central goal of the Paris Climate Change Agreement, which is to limit the global temperature increase to below 2 degrees Celsius. Such vehicles are also crucial to ensure cleaner air in the world's towns and cities.
The launch of the new van is part of the GoGreen environmental programme of the Bonn-based Deutsche Post DHL Group, aimed at reducing all logistics-related emissions to zero by the year 2050. And it comes ahead of the UN Climate Change Conference in Bonn in November, an event at which many examples of clean transport will be showcased.
12,500 Tonnes of Carbon Dioxide Saved Every Year
The e-van, called the "StreetScooter WORK XL," will function with a battery system delivering 30 to 90 kWh of power. 150 pre-production vehicles will already be used for parcel deliveries in Germany by the end of 2017.
"It is the perfect vehicle for parcel deliveries in major cities and large urban areas, and will enable us to cope with the rising parcel volumes in an even more environmentally friendly and quieter manner," says Jürgen Gerdes, Member of the Board of Management Post – eCommerce – Parcel, at Deutsche Post DHL Group.
Each of these vehicles could contribute to save around 5 tonnes of CO2 and 1,900 liters of diesel fuel each year. With at least 2,500 e-vans in service as planned, this could allow for a total saving of 12,500 tonnes of CO2 and 4.75 million litres of fuel every year.
A Global Movement for Electric Mobility
In Germany and other parts of the world, similar initiatives are under way. Siemens has announced a plan to start an electric truck charging technology through cables on a stretch of German highways. Meanwhile, in the United States, the electric vehicle startup Chanje is set to launch a new series of electric trucks, vans and shuttle buses. And Tesla has begun the roll out of its Model 3 with an extended range and a price tag which makes the vehicle affordable for a large consumer base.
According to the International Renewable Energy Agency (IRENA), the global stock of electric vehicles passed the two million mark in 2016, and this rapid rise has been led by countries including China, the United States, Japan, as well as several European countries.