Some civil society groups in Abuja on Thursday, May 25, 2023, urged the incoming administration in Nigeria to tackle climate issues with utmost urgency.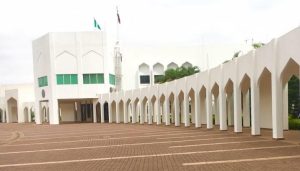 Mr Michael David, Team Lead Global Initiative for Food Security and Ecosystem Preservation (GIFSEP) and Team Lead Vote for Climate Nigeria, said this at the Africa Day 2023 celebration.
The theme centres around "Opportunities for renewable energy in Nigeria setting a climate agenda for the incoming administration".
David said that "all that is required is the political will for climate action".
His words: "We want a Minister of Environment who is not a climate denier.
"He must be an individual that understands financial flows and can represent Nigeria at international bilateral meetings such as Cooperation of Parties COP among others.
"The same applies to the National Assembly, the Senate and the House Committee on Climate and Environment should be senators and members of the house who understand climate and environmental issues and will perform oversight responsibilities with credibility.
"It cannot be 'Business as Usual' because we do not have time."
He advocated the inclusion of capable women and the youth in positions in the new government.
"The president-elect, Sen. Bola Tinubu, should be reminded that we are sitting on a gold mine of ideas from young people.
"Women and youths should not be excluded.
"Same advice goes to the state governors as well. It is important to state here that women and youths are most vulnerable to climate change impact and should be part of the solution.
"Put climate at the heart of all decision-making, invest in data and listen to the Scientists," he added.
David urged that all policies be backed by science.
"Re-activate and strengthen the inter-ministerial committee on climate change funding.
"The National Council on Climate Change should be funded to enable the implementation of the Climate Change Act.
"Increase funding to relevant ministries and agencies. Subsidise Renewable Energy and raw materials needed for the production and installation of solar panels," he appealed.
David said it was the duty of everyone to embrace the fight against climate crisis because climate crisis knows no religion nor tribe or political party.
He said that transition to Renewable Energy- Halt all new investments into New Fossil fuel projects in the country.
Mr Akoje Kevin of Sustainable Development Goals (SDG) Radio urged the incoming administration to look into reducing the greenhouse gas emission.
He expressed optimism that the country generated its biggest solar electricity plants to address the challenges of power.
"Imagine that over 200 million people have access to power, the industries would work, small medium enterprises will be glad to produce goods and services and a whole lot of youths and the elderly will be employed," said Kevin.
Ms Tokoni Ngeribika of Inockot Global, an NGO, urged the incoming administration to address the problems of flooding.
According to her, one thing the incoming administration to consider is hydro electric generation in the Niger Delta.
She also urged the incoming administration to look into the waste-to-energy conversion.
By Abigael Joshua