The two-day Petersberg Climate Dialogue concluded in Berlin on Wednesday, May 3, 2023. According to civil society practitioners, the high-level meeting attended by over 40 delegates was a key opportunity to set a framework for delivering a strong outcome from COP28.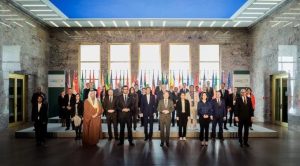 Tasneem Essop, Executive Director, Climate Action Network, said: "The Petersberg Climate Dialogue was an opportunity to build a strong political coalition to align on the need for an urgent, just and equitable phase out plan for fossil fuels – accompanied by a surge in sustainable renewable energy investments.
"The root cause of the climate crisis is fossil fuels, and tackling greenhouse gas emissions means tackling fossil fuels. We cannot pretend the solutions to the climate crisis lie with unreliable, untested techno fixes that will bring new risks and threats.
"The science is clear on this. Phasing out fossil fuels and stopping emissions at source is a matter of political will and the UAE as the COP28 Presidency can play a leadership role in ensuring a successful outcome at COP28 on an equitable phase out of fossil fuels through a just transition."
Andreas Sieber, Policy and Campaigns Associate Director, 350.org: "The recent IPCC was a final wake-up call for the decisive decade and the oil CEO COP28 president, Sultan Al Jaber, has so far rather hit the snooze-button. He must not be able to again hide behind the same few blockers with vested interests. Negotiators must go a step further and form a strong, united coalition for a COP28 cover decision to phase out all fossil fuels and simultaneously massively scale-up the deployment of renewable energy. It's long past time for him to wake up."
Lavetanalagi Seru, Regional Coordinator, Pacific Islands Climate Action Network: "Droughts, twin tropical cyclones, and floods have struck the Pacific region since last year's COP27, a daily reminder of the lack of climate action, ambition and political will. Al Jaber's recent statement, focusing on the development of technologies to reduce emissions, rather than to phase out production of fossil fuels is not what the climate frontline communities need to hear. We need real climate solutions, and not some speculated technologies to address the existential threat of climate change."