A week of actions from September 18 to 26, 2020 including a new wave of global climate strikes are calling on world leaders at the UN assembly to #TurnItAround for a Just Recovery from COVID-19 and the climate crisis.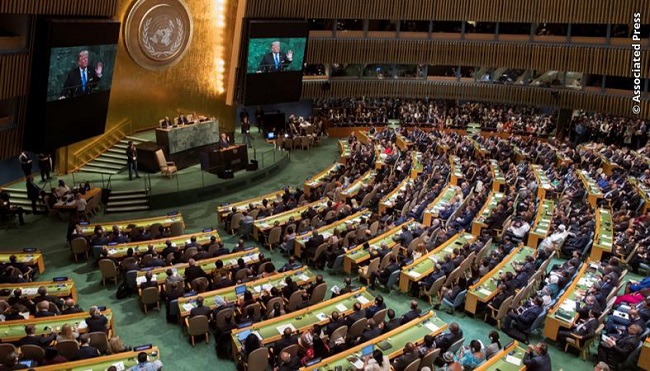 Five years have passed since national governments signed historic international treaties and agreements – the Paris climate agreement, the Sustainable Development Goals and the broader 2030 Agenda to push for a more just and sustainable world. These inter-linked agendas promised to transform the world, to end poverty, to reduce inequality, ensure peace and address the climate crisis.
So far, delivery has failed to live up to that ambition, according to a group of activists.
They added: "The covid-19 pandemic and subsequent health and economic crisis have thrown into stark relief the disparities and injustice between and within our societies. Access to affordable healthcare, education, employment opportunities, clean energy and nourishing food: it's on these key markers of human wellbeing that political choices need to be assessed. Instead, economic models rooted in extractivism and inequality have failed us and brought us as close as we've ever been to a constant state of disaster. The 2020 pandemic has united the world in grief; it must also mark a turning point in the way we humans relate to each other and to nature. We can't afford to wait another five years.
"We stand today at a crossroads. We must take drastic action to cut emissions worldwide, protect people in the most affected areas, preserve our forests and oceans, safeguard communities and all forms of life on our beautiful planet. We must also address the underlying inequalities of our societies and ensure universal provision of the right to health and social protection for all, as well as long-term sustainable development, as set out in the Sustainable Development Goals."
This, they stated, requires a political and cultural transformation of unprecedented scale and scope.
This week, as world leaders meet at the UN General Assembly on the 5th anniversary of the Sustainable Development Goals (SDGs), more than 800 community groups, NGOs and civil society organisations are mobilizing and calling on leaders to make this a turning point moment for a more just and sustainable world.
On September 25, a year after some seven million people took part in Global Climate Strikes, thousands of strikes that reportedly lifted the voices of the people and areas most affected by the climate crisis and demand a just recovery for all.
Agnes Hall, Global Director of Digital Organising and Campaigning, 350.org, said: "Fossil fuel companies announce net-zero plans, yet they plan to expand production, all the while getting public bailout money, our money. We've had enough: world leaders need to start treating the climate crisis with the same level of urgency as they have COVID-19 and kickstart a green and just recovery."
Oli Henman, Global Coordinator of Action for Sustainable Development: "Around the world, we have seen disproportionate impacts from the Covid-19 pandemic on those who are already most at risk, there must be rapid action if we are to truly leave no one behind. As we mark the 5th anniversary of the Sustainable Development Goals, our partners and allies around the world are mobilising and sharing stories of people who are at the frontline of this emergency but we expect world leaders to take urgent action now to build a fairer, more just and sustainable future."
Tasneem Essop, Executive Director, Climate Action Network: "The people's strike happening today around the globe is a reminder to world leaders, particularly of high-emitting rich countries, that their failure to take the climate emergency seriously is criminal and unforgivable. These past months, many governments have in fact used the Covid-19 pandemic and the resulting economic crisis to double down and increase spending of public money on fossil fuels even as climate disasters escalate.
"We will not have the COP26 meeting this year but this is no excuse to put climate ambition on the back-burner or delay the submission of enhanced national climate plans in line with a 1.5 degree C pathway, the bare minimum that was promised in the Paris Agreement five years ago. This unprecedented confluence of crises requires the highest levels of multilateral cooperation and international solidarity and we demand that governments listen to the people and protect their citizens."
Tim Gore, Head of Climate Policy, Oxfam International: "We stand with everyone demanding a fairer world and a safer climate. In recent decades the richest 1% contributed twice the carbon emissions of the poorest half of humanity combined, yet it is poorer and young people that pay the highest price. Governments must ditch their obsession with grossly unequal, polluting growth at all costs, and start building a better world for us all."
Sharan Burrow, General Secretary International Trade Union Confederation (ITUC): "Governments must step up action to meet the test of Covid-19 and the climate emergency. With 495 million jobs lost and trillions of dollars in lost income in the past six months, the impact of the next climate disaster on top of the pandemic will be devastating. A New Social Contract with Just Transition plans can help the global economy recover while building the resilience required to meet the convergent challenges of the pandemic, climate change and inequality."
Ashfaq Khalfan, Director of Law and Policy, Amnesty International: "The climate crisis is one of the biggest human rights issues of our time. Leaders must avoid pandemic-induced tunnel vision and commit to the long-term well-being of their people. COVID-19 has driven many to the very edge of their capacity to survive and tested our collective resilience. But it has also renewed our determination for a radically different future – a more just, equitable and sustainable world that is fit for our children and grandchildren."
Disha A Ravi, Fridays For Future, India: "The climate crisis is an issue of the present, not just the future. World leaders have failed to act on the crisis. We, the people from the most affected areas are going to change the climate narrative and lead climate negotiations. We are going to lead a revolution that chooses people over profits!"
Hilda Flavia Nakabuye, Fridays for Future Uganda: "In order to fight the Covid-19 pandemic, governments have taken strong and bold measures, pulling on the brakes, deciding on a long lockdown. We've stopped striking temporarily – but we know that the only way we can contain climate change is by our actions. That's why we are striking again today, and will keep on mobilising in the future."