Chinese authorities on Thursday, November 29, 2018 ordered suspending research activities of persons involved in the gene-edited babies' incident, denouncing the matter as "extremely abominable in nature" and in violation of Chinese laws and science ethics.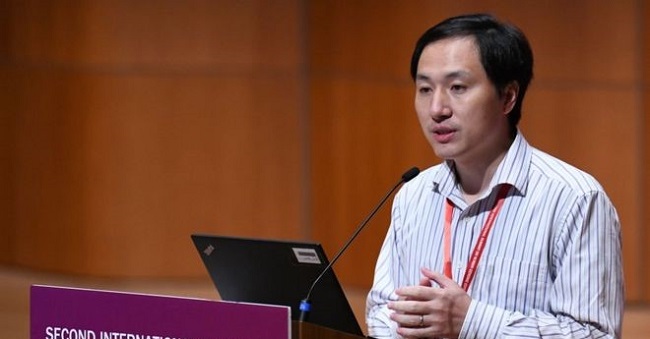 The gene-edited twins matter reported by the media has brazenly violated Chinese laws and regulations and breached the science ethics bottom line, which is both shocking and unacceptable, Xu Nanping, vice minister of the Ministry of Science and Technology, told newsmen.
Xu said the ministry was firmly against the research, noting that clinical procedures of gene-editing on human embryos for reproduction purposes were explicitly banned in China.
"The ministry has ordered relevant units to impose the suspension,'' Xu said.
He Jiankui, a Chinese researcher based in Shenzhen, Guangdong Province, claimed on Monday to have altered the DNA of twin girls born a few weeks ago to prevent them from contracting HIV.
His claim remained unproved, but the incident had triggered a heated debate in the scientific community and on social media.
China's National Health Commission (NHC) also spoke against the incident.
Zeng Yixin, deputy head of the NHC, said unlawful activities on the matter would be investigated and wrongdoings resolutely dealt with.
"As science and technology gain rapid progress, research and applications in this field must shoulder more responsibilities, and codes of ethics should be strictly abided by,'' Zeng added.
The China Association for Science and Technology (CAST), a research society mainly comprised researchers and scientists, said He Jiankui's candidacy of an award for young scientists would be disqualified.
Report says CAST adopts a "zero tolerance" attitude to those who breach scientific ethics and norms.
Huai Jinpeng, Party chief and executive vice chairman of CAST, characterised the matter as "extremely abominable in nature'' and said it had seriously damaged the image and interests of the Chinese scientific community.
"People and institutions involved in the matter have brazenly challenged the bottom line of scientific research ethics and desecrated the spirit of science.
"The Chinese scientific community is committed to its original aspiration that science and technology shall always serve mankind and sustained healthy development of society,'' Huai noted.