The Hong Kong-Zhuhai-Macao bridge, the world's longest manmade sea crossing, in respect of which major construction work came to a close on December 31, 2017,  will be opened in the second quarter of 2018.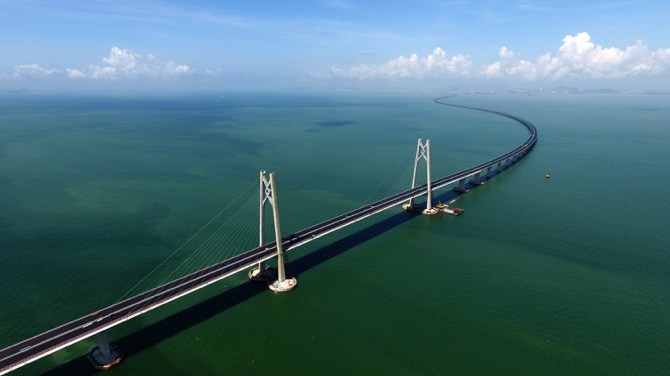 In recent weeks, engineers and constructors have been testing the coordination of the bridge's various systems and equipment, as well as inspection and cleaning work.
Also, work on the principal section – a 29.6km bridge-island-tunnel complex – is expected to have been completed in early February, ahead of an official handover ceremony by the contractors.
Although a precise date has not been fixed, the bridge will start services officially around May to June, according to the sources, who added that the final commissioning date would partially depend on the construction progress of port facilities in Zhuhai and Hong Kong.
It took six years preparation, and eight years to build the 55 kilometre-long bridge linking Hong Kong, Zhuhai and Macao.
Major work on the bridge consisted of a 22.9 kilometre-long main bridge, a 6.7 kilometre-long tunnel and an artificial island off the bridge, which is considered the most technically demanding part of the whole construction.
The Y-shaped bridge will cut travel time between Hong Kong and Zhuhai from three hours to just 30 minutes, further integrating cities in the Pearl River Delta. With expanding capacities of roads, railways and ports, the Greater Bay Area will see a highly convenient and efficient transportation network.
Except for the principal section, the bridge also consists of ports and link roads in Zhuhai and the Macau and Hong Kong SARs. These works are conducted by the respective governments.
The 55km bridge, 20 times the length of San Francisco's Golden Gate Bridge, connects Hong Kong in the east of the Pearl River Estuary with Macau and Zhuhai in the west.
Construction of the bridge began in 2009.