Using charcoal as a source of energy for cooking has gained wide acceptance in the north-west zone despite the enormous threats the felling of trees and logging pose to the environment.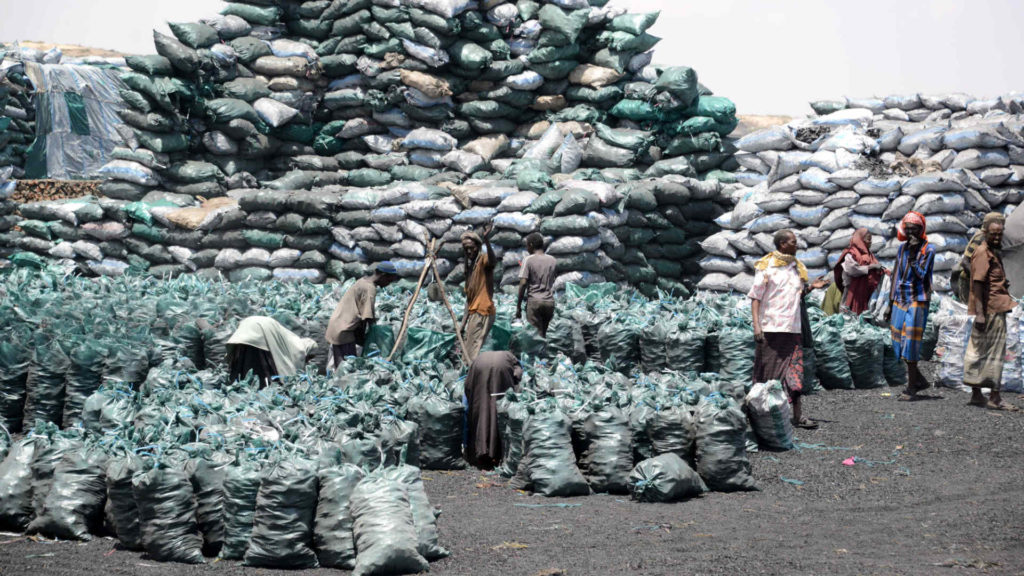 The states in the zone are the ones most affected by massive threats of desertification and deforestation.
A survey by the News Agency of Nigeria (NAN) across states in the zone revealed that the various governments are finding it difficult to stop the trend.
The states surveyed are Sokoto, Kebbi, Kano, Kaduna and Katsina.
In Sokoto State, some of the residents, including bakery owners, said it was cheaper and easier to use charcoal to cook, while dealers said they make as much as N500 profit on each bag of charcoal sold to retailers.
Some residents of Sokoto, such as Malama Basira Musa, Malam Hamza Shehu and Nasiru Muhammad told NAN that, with N50 to N200, a household can buy charcoal to use in cooking food for the whole family for two days.
A charcoal vendor, Alhaji Abubakar Maiwurno, said operatives like him obtain the commodity from wholesalers located at Kofar Atiku, Illela road and Kara in Sokoto.
Maiwurno said they buy a bag for between N1,400 to N1,600 and resell for between N1,900 to N2,000.
He said that vendors use smaller polythene bags to measure small quantities for sale to individual buyers.
A large-scale dealer, Alhaji Ilyasu Maiyama, said they get some of the commodity from forests in Tureta and Dange/Shuni local government areas in Sokoto state and from some parts of Zamfara State.
Maiyama said however that the bulk of charcoal supplies come from Kogi, Niger and Kwara states, adding that "the business is booming''.
A bakery owner, Alhaji Shehu Ahmad, said most bakeries use raw firewood to bake bread with only a few using modern baking tools.
Shehu said that charcoal at times become expensive to use compared to raw firewood, adding that some use it in their bakeries.
Malam Salisu Shehu, the state Director for Forestry, described the business as a threat to government efforts at preserving the fast disappearing forest resources, and in sustaining shelters belts and valuable economic trees.
Shehu said that, despite the threat, the government plants trees yearly along shelters belts to curb desert encroachment and mitigate the impact of global warming.
Mr Muhammad Makera, the Operations Controller, Sokoto Field Office of Department of Petroleum Resources (DPR), said the department had been educating residents to switch from firewood and charcoal to Liquefied Petroleum Gas (LPG) for domestic purposes.
Makera said that the campaign is aimed at complementing government's efforts to tackle desertification and climate change.
Commissioner for Energy and Petroleum Resources, Alhaji Balarabe Harade-Mahe, said that state government was investing on renewable energy, which he described as more environmentally friendly in terms of pollution and sustainability.
In Kebbi, the state Director of Forestry, Alhaji Ibrahim Gudu, attributed rampant logging of trees and charcoal business to the high rate of poverty among the populace.
He said that existing laws against illegal felling of trees were inadequate to dissuade offenders.
"We hate to say this, but that is the truth: the level of poverty is very high, especially in villages where our forest reserves are situated.
"The people there use our deficiency of insufficiency of manpower to engage in the business of logging to feed their families," he said.
According to him, the logging business is illegal and contravenes the Kebbi State Forestry Edict, 1997.
Gudu however said the law was obsolete and no longer relevant to the present reality.
"For example, the law only provides a penalty of N1,000 fine per tree or N20,000 for other forestry produce damaged or destroyed illegally," he said.
He, therefore, urged the state government to revise the law and impose stringent measures against offenders.
The director also suggested that the state government should encourage the planting and production of trees to mitigate climate change as well as increase trees population in the state.
But, Alhaji Rabi'u Sala, a charcoal dealer and the Managing Director, Kama in Kama Ranch and Plantation Services, said that the business had impacted positively on many families in the state.
"As I am talking to you now, I have 25 unemployed youths working under me, but we are not logging trees, rather we buy our charcoal from Kwara and Oyo states with the permit of their revenue boards.
"We have receipts that we pay revenue whenever we buy our products from them," he said.
Alhaji Umar Danfulani, a resident of Birnin Kebbi said: "Charcoal is more economical when compared with kerosene of which a gallon cost up to N1,700.
"Charcoal of N200 can cook food for three days but one gallon of kerosene can't reach up to one week," Danfulani said.
In Kano, the Permanent Secretary of Kano State Ministry of Environment, Mr Hussan Musa, said: "It is profitable and therefore difficult to stop."
Musa said that various governments should provide appropriate legislations taking into consideration its environmental impact.
"For any community to engage in charcoal production, there is a great need to advocate for planting of more trees to replace the used ones.
"In some communities across the world, dead trees are used to make charcoal, they also need replacement."
He said that every charcoal was made for various purposes based on the type of products used to obtain the charcoal, be it paper, trees and even coconut bark.
He listed many alternatives to charcoal, including solar energy, waste bricks, gas from human waste as well as methinks gas, which the authorities should encourage people to use.
The permanent secretary said the state government was working on a bill to stop illegal felling of trees.
Malam Mikail Umar, a large-scale trader of charcoal at Jaen quarters in Kano metropolis, advised the government to regulate the business.
"If the business is dangerous then the government must regulate it and find a better alternative," he said.
Meanwhile, some Kaduna residents said fear of gas explosion and high cost of kerosene had made them to go for charcoal.
Some of these residents said "Charcoal is safe, inexpensive and does not generate smoke."
Mary Ajala, a resident of Sabo, said the recent Kaduna gas explosion had given her enough reasons why she should not use gas to cook in her house.
"After the gas explosion I got scared knowing I have kids in the house anything can happen using gas, so I use charcoal outside for safety.
"Charcoal is very cheap with N100 I can cook a whole meal for my family. Besides, it keeps my pot clean unlike the kerosene stove which blackens my pots."
The Kaduna State Government has sealed 119 illegal cooking gas retailers and provided four locations for gas sales.
Another resident, Mrs Yerima Giwa, said she uses charcoal because gas had proven to be dangerous while Kerosene had become expensive and not easily accessible.
"Charcoal burns slower and it is available almost everywhere unlike gas that I have to go a long distance to buy."
James Sarki, a local bread factory owner, said he still uses firewood and sells the charcoal it generated for more income.
Sarki said he burns a truck load of wood weekly in his bakery.
"I now use wood because I get to sell the charcoal which I get from my local oven to women who come to buy from me."
Nurudeen Bello, the Director, African Climate Reporters, said felling of trees to produce charcoal exposes the environment and humans to climate change.
He said that charcoal when burnt could be highly toxic to humans but when regulated could be a detoxifying agent for treatment of illnesses.
Bello said the major challenge in processing wood to charcoal was that when the wood was not burnt completely, it could release toxins which could lead to death.
He called for more enlightenment of residents on effects of burning charcoal to humans and the environment.
The director also called for re-enforcement and monitoring of government policies on indiscriminate felling of trees to protect the environment.
The situation appears to be the same in Katsina State, where charcoal sale is attracting huge customers because of the harmattan cold.
Dealers there said they receive supplies from as far as Plateau, Kano and Kaduna states.
Malam Abdullahi Inusa, a charcoal retailer in Katsina, said he is making a fortune from the business and that it be difficult to stop for now.