Recently released figures reveal the scale of the challenge ahead to bring universal access to water and sanitation in Nigeria by 2030, international development organisation, WaterAid, has said.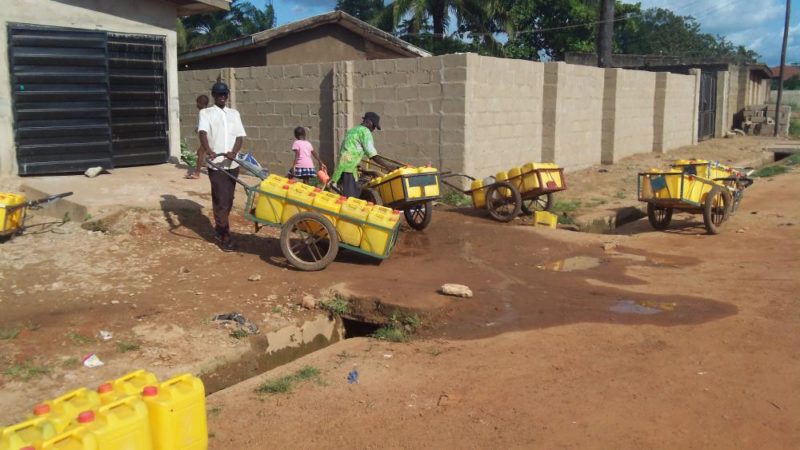 WaterAid's analysis of figures released in the new 'Progress on drinking water, sanitation and hygiene: 2017 update and SDG baselines' by the Joint Monitoring Programme – a body set up by Unicef and the World Health Organisation (WHO) to collate data on water and sanitation coverage – shows that Nigeria will only be able to deliver a community source of clean water within a 30-minute round trip to everyone by 2039.
However, the picture for sanitation is bleak with current demographic changes outstripping the provision of toilets. At current rates of progress, the report states that Nigeria will never reach the point where everyone has basic sanitation services.
This is by far the most comprehensive global assessment of WASH services produced to date, changingearlier definitions of access to water and sanitation and setting new ambitious standards for the road to universal access.The number of sources in the JMP database (used to create the estimates) has more than doubled since the 2015 report, drawing on both household surveys and national administrative data. There are also new types of data on hygiene, water/sanitation service levels, and inequalities (for wealth quintiles and sub-national regions).
Currently, according to the new figures and measuring the provision of water, sanitation and hygiene at what the JMP refers to as basic service levels, 33% of people in Nigeria do not have clean water, 67% do not have a decent toilet and 26% practice open defecation.
Accessibility, availability and quality vary widely in countries such as Nigeria, with national averages masking significant inequalities between subnational regions.
Worldwide, the latest statistics show that 839 million people – or around 11% of the global population – do not have access to clean water. This number has risen from the previous 663 million figures, largely because the 264 million who have to spend over half an hour in their round-trip to collect clean water are now deemed to only have a "limited" water service.
And 2.3 billion still do not have a decent toilet – around one in three of the world's population.
World leaders in 2015 committed to the UN Sustainable Development Goals (SDGs) including Goal 6, which aims to make sure by 2030 that every household in the world has its own tap and toilet delivering safe water and safe sanitation – a standard known as "safely managed". This is a new level of ambition, building on the achievements of the Millennium Development Goals.
Earlier definitions of access to clean water required only that a person would be deemed to have clean water if they had access to a water source that was built to protect the water from contamination, such as a pump or a covered well. With this new set of definitions, the United Nations has set the vision higher – for every household to have its own water source available when needed, and which is regularly tested to make sure it is safe. Toilets will need to be private and part of a system that makes sure they are regularly emptied, as with an effective sewage system or latrine emptying scheme. Currently only 19% of people in Nigeria have a safely managed water supply whilst there is insufficient data currently available as to how many have that level of sanitation service.
WaterAid is fully behind the vision and ambition of the United Nations to ensure that everyone achieves the human right of safe water and toilets. However, WaterAid cautions that achieving this standard of coverage will require a revolution in approach from decision-makers at grassroots level right through national governments and up to international organisations such as the United Nations and World Bank.
WaterAid Nigeria Country Director, Dr Michael Ojo, said: "The fact that so many of the world's population still have to exist without access to the essentials of life – clean water and a decent toilet – is shameful. There is clear consensus on the transformative power of those services – we know for example that for every £1 spent, there is a £4 boost to the economy.
"We know for instance that women live more fulfilling and productive lives when they are freed from the daily burden of fetching water, water that is more often than not contaminated and will make their families sick and deprive them of yet more resources – time and money. We know that children are more able to concentrate on their lessons when they can get a clean drink of water and go to the toilet. We know that if people are able to wash their hands, they help stop the spread of germs in their community.
"If the world galvanised to make sure that no one ever had to worry about where to get a drink, or go to the toilet or wash their hands, we could save the lives of so many of the 289,000 children under five who now die each year from diarrhoea linked to dirty water or lack of sanitation.
"The United Nation's vision of working taps, toilets and hand basins for every household by 2030 is absolutely the right goal because it will truly transform lives. But we have only another 13 years to get there which means that all of us, across government, civil society, water and sanitation companies and in every community must work with passion, grit, generosity and vision to bring this historic moment to pass."
Top 10 worst countries in the world for at least basic sanitation
Country
At least basic sanitation (% population)
Year reaching 100% coverage
1
Ethiopia
7
2370
2
Chad
10
Never (decreasing)
3
Madagascar
10
2281
4
South Sudan
10
2123
5
Eritrea
11
2347
6
Niger
13
2203
7
Benin
14
2341
8
Togo
14
2449
9
Ghana
14
2428
10
Sierra Leone
15
2302
Top 10 worst countries in the world for at least basic access to water
Country
At least basic water access (% population)
Year reaching 100% coverage
1
Eritrea
19
2507
2
Papua New Guinea
37
Never – decreasing
3
Uganda
39
2118
4
Ethiopia
39
2056
5
Democratic Republic of Congo
39
2239
6
Somalia
40
2062
7
Angola
41
2289
8
Chad
43
2259
9
Niger
46
2119
10
Mozambique
47
204