The Abuja skyline and indeed the Nigerian property market is poised for a remarkable transformation as construction gets underway for "The Address Hotels + Resorts" in Abuja, by Eagle Hills, a global developer of iconic real estate assets. It is a core component of the Abuja Centenary City, "A city within a city" and designed as a new social and economic hub for Nigeria.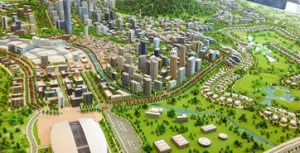 The project is a multifunctional development that offers a complete cosmopolitan lifestyle to its residents, as well as serves as a hub for the wider community. The Centenary City, a smart, inter-connected urban centre that draws on the innovative technologies, will have a central business district, a financial centre, a museum and cultural centre to promote African and global arts, world-class hotels, business and technology parks, residential districts, an 18-hole golf course, industry centres, sports and leisure facilities and community amenities.
Eagle Hills, a UAE-based private real estate investment and development company, has reconfirmed The Address Resorts as a core element of the Abuja Centenary City, its premier lifestyle free trade zone development in Abuja. The Address Abuja, which is already under rapid construction, promises to introduce a new concept in Nigeria for hospitality and residential living with serviced villas and apartments.
The Address Abuja in Centenary City is designed to work in harmony with nature: an exclusive community becoming part of the natural landscape and offering both an impressive downtown skyline and peaceful suburban living. Conceptualised by one of the world's finest hospitality labels, The Address Residence serviced apartments, will be the city's most exclusive uptown address, offering the pinnacle of urban life, ultra-modern towers and a breathtaking view of Centenary City. Residents will be able to enjoy a host of world-class amenities both inside and around their homes from fully equipped gyms, swimming pools and premier wellness facilities to closely located convenience stores and services.
It is set in a spectacular position, offering breathtaking views of Centenary City and the surrounding landscape. The podium deck is the front door of the project, featuring a carefully detailed complex of private decks, infinity pools, concierge services, and the ultimate in club facilities, all within a resort atmosphere. The development aims to boost the Nigerian hospitality sector, bringing it in par with international standards across the globe.
Mohamed Alabbar, a board member of Eagle Hills, said: "Centenary City Abuja is a fitting tribute to the Nigerian nation. The 1,300-hectare master-planned community, is envisaged as a spectacular city hub and the largest of its kind in Africa. The Address Residence Abuja will be the latest premier property embodying the company's progressive spirit. The project features a residential community consisting of four- to 10-bedroom luxury villas and one- to three-bedroom apartments."
Philippe Zuber, Chief Operating Officer of The Address Hotels + Resorts, said: "The Address Abuja, the five star premium brand brings a new identity to the hospitality and service offering in Nigeria and the region. The Address chooses central locations to offer its customers the best in entertainment, leisure and overall convenience, guaranteeing a first-class hospitality experience for every resident and guest. The Address Hotels + Resorts group philosophy is to offer a more personal and approachable experience to guests in a lifestyle environment, whether it be business, leisure or group travelers. Its motto 'Where life happens' demonstrates the versatile approach of The Address to servicing every customer, guaranteeing a first-class hospitality experience for every guest; making it the perfect addition to Centenary City.
With excellent connectivity to the main highway, 30 minutes from the city centre and less than 10 minutes from the airport, The Address Abuja in Centenary City is located in the heart of this spectacular development.
The arrival of The Address Hotel in Nigeria at Centenary City Abuja is symbolic of Eagle Hills' approach to developing flagship mixed-use master-planned communities in high growth cities of the future. The urban expansion and renewal projects positively impact business and tourism while also ensuring sustainable economic growth. When completed, Centenary City will be an interconnected, smart and intelligent city that will create several thousand new jobs and promote other sectors such as retail, hospitality and leisure.
Eagle Hills is a global developer of iconic real estate assets and a provider of premium lifestyles that helps countries raise their global profiles to new heights. Their properties aim to become flagship city destinations that invigorate nations. Backed by unprecedented credentials in creating mixed-use master planned communities, Eagle Hills Company builds residential projects that captures the very best the city has to offer, and is a catalyst to urban expansion and sustainable economic growth.