The Centre for Environmental Renaissance (CEEREN) and Baze University have reechoed the importance of public enlightenment in curbing the catastrophic effects of climate change on livelihood sources.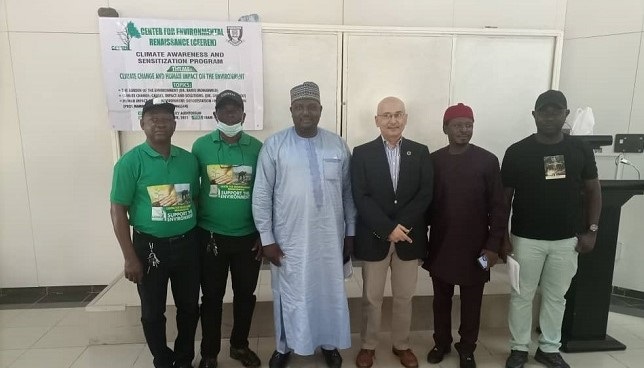 The duo, while speaking at a public lecture organised by CEEREN in collaboration with Baze University in Abuja, decried the poor state of civic education on environmental sustainability among the citizens which they accused of being responsible for the humiliating condition of the planet.
They believe that, to solve this problem, we must all come together and rethink how best to live a decent and eco-friendly lifestyle. It is considered that this unity will produce the required consciousness and sensitivity to guarantee ecological safeguard.
"Do we have any responsibility in this," asked Dr. Mani Ahmed, the Registrar of Baze University. "Yes, we do."
Dr. Ahmed said the tears can be wiped away and the environment also stops crying if everybody is mindfully doing their bit to preserve Mother Earth. He is confident that this individual approach if properly deployed can produce more results than all the lofty and wishful expectations from political leaders to mitigate and adapt to climate disasters.
While it is fundamental to reduce and halt many of these negative human activities on the environment to be able to reverse this ugly trend, unfortunately, the erudite gentleman lamented that Nigeria has a long way to go in terms of cutting down its carbon footprint.
The search for a solution to address this crisis according to him inspired his institution to partner with CEEREN to intensify communal responsiveness to enable people to understand their roles and how they can be useful in championing environment sustainability.
"So, I urge you all to think twice about what we do in our daily lives that are detrimental to the environment particularly those activities that will increase our carbon footprint," he appealed.
Papers that focused on the environmental burden, the causes, and solutions of climate change, as well as the human impact of desertification and deforestation on environmental health were presented at the event to enhance public understanding.
Secretary of CEEREN, Mr. Edwin Orugbo, while expressing joy over the successful implementation of the exercise, told the participants that his organisation put together the programme to sensitise and improve public knowledge on environmental safety.
Mr. Orugbo disclosed that the theme of the lecture – "Climate Change and Human Impact on the Environment" – was coined to emphasise the relationship between man and the ecosystem.
He also believes that people need to alter the current ways of doing things to be able to reverse the impending calamity.
For CEEREN, this meeting is just one of the many tools in the toolbox to foster environmental sustainability. Renewable energy, environmental impact assessment, and tree planting are other forms of action that they are leveraging to support climate solutions.
"We will not stop here," Edwin said. "But we will go to other sectors."
He hinted that his team is planning to carry out a purification exercise on the environment which is expected to be carried out in Abuja, Nigeria's capital city.
Even though the situation seems very bad, however, the environmental rights campaigner insists that it is not too late to start doing the proper thing to secure the environment.
Therefore, he tasked the political elites to legislate laws that are favorable to the environment. While individuals have to change the way they consume, industrialists must reconsider the concept of economic development to ensure that we don't leave the earth in a worse state than we met it.
By Etta Michael Bisong, Abuja