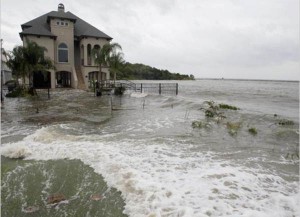 Governments the world over have been handed a warning by the world's leading climate scientists that society is vastly underprepared to deal with the increased risks posed by climate change impacts that the world is no longer able to avoid.
The second instalment of the Intergovernmental Panel on Climate Change's Fifth Assessment Report (AR5), released in Yokohama, Japan on Monday, has warned that climate change is already negatively affecting every continent and the oceans. As climate change worsens, it will make people poorer, hungrier, and more ill as they contend with more extreme flooding, heat waves, and droughts.
Surveyor Efik of Climate Change Network Nigeria (CCN-Nigeria) and the Lead Facilitator of the Nigerian civil society Strategist Think Tank on Climate Change, set up to promote awareness of the findings of the IPCC AR5 reports in Nigeria, said the delay in acting to solve the climate crisis had already resulted in impacts such as desertification and droughts in the Northern part of Nigeria and sea level rise and flooding in the Southern part of Nigeria, all with heat waves spreading across the country at various degrees.
Without urgent action, Nigeria will face significant negative impacts on agricultural productivity, affecting the livelihoods of farming populace and communities, and reducing domestic food security and culminating in the loss of between two percent and 11 percent of GDP by 2020, rising to between six percent and 30 percent by the year 2050. "Even though the IPCC has warned further that delaying climate action could double the hit to the economy, the money to innovate and clean up the energy sector and to allow communities to adapt is yet to be found," Efik added.
The IPCC has conservatively estimated that the cost to adapt in the developing world alone to be USD100 billion a year – a figure which does not consider the loss of anything without monetary value, such as culture, lives and biodiversity. Yet the IPCC scientists have also warned that without also dramatically and urgently reducing carbon pollution, the impacts of climate change will go beyond our ability to adapt to them.
"Delaying action will cost more and be less effective Nigeria," Efik warned. "While acting now saves lives and delivers many other benefits such as green jobs and more sustainable economies to our communities and the environments they depend on, it will also keep planet earth safe for socio-economic growth of future generations."
The report – which is signed off by governments of the world – comes just six months before the UN Secretary General's climate summit at which leaders must commit to actions which pave the way for the new international climate treaty due in 2015. The third instalment of the IPCC's fifth assessment report will come out in Berlin next month and it focuses on the options for reducing carbon pollution.