Federal Ministry of Finance, Budget and National Planning says the implementation of cassava bio-economy will end the current food insufficiency in Nigeria and create employment.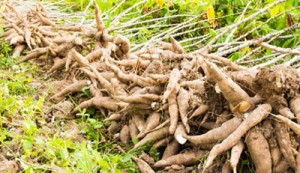 Permanent Secretary of the ministry, Mr Nebeolisa Anako, said this during the South-West Regional Awareness and Sensitisation workshop on Bio-economy on Cassava-Bioethanol Value Chain Development Programme on Tuesday, July 25, 2023, in Ibadan, Oyo State.
The theme of the workshop was: "Knowledge Transfer: Cassava and Bio-Ethanol Value Chain."
Bio-economy is the knowledge-based production and use of molecular biology of plant and animal origin as well as processes to create a wide range of products and services across all sectors of the economy.
Anako, represented by Director of Economic Growth in the ministry, Mrs Elizabeth Egharevba, said that the workshop was one of the Federal Government's plans enhance higher GDP growth and significantly reduce unemployment by creating meaningful opportunities for youths.
The permanent secretary said that bio-economy policy was aimed at promoting sustainable economic growth and development by creating a bio-based economy that would contribute to job creation, poverty reduction and increased access to food and energy.
This, he said, could be achieved through the development of cassava bio-economy as well as other bio-resources.
Anako appreciated stakeholders from relevant federal ministries, department and agencies (MDAs) for their collaboration and enduring partnership in developing the bio-economy policy.
He said that it was pertinent to look at bio-economy's response and how it could contribute to the deceleration of the rising food insecurity.
"The country, at this time, needs an approach that will increase food production, youth employment and increased growth through provision of industrial feedstock and exportable products to boost our economy.
"To achieve this, one strategic pathway is to develop the cassava bio-ethanol value chain.
"This becomes even more imperative, given the recent removal of subsidy on petroleum products and re-evaluation of the naira through the merging of official and non-official exchange windows.
"Development of the cassava bio-ethanol value chain is a veritable pathway to assuaging the economic impacts on citizens and for sustained development," he said.
Speaking on behalf of IITA management, Project Coordinator of Technology Transformation, Dr Chrysantus Akem, said that the cassava bio-ethanol value chain was aimed at transforming cassava to other by- products.
Akem expressed IITA's readiness to partner on the project based on its impacts on African youths who were in dire need of employment.
Also speaking, the Managing Director, Bio-Sources and Technologies Limited, Prof. Ken Ife, said that Nigeria, being one of the biggest producers of cassava in the world, needed technology and added value to cassava production.
Ife said that bio-economy was the new economy for the future, with an infinite range of products and services across all sectors of the economy to work on by Nigeria.
On his part, the Vice-Chancellor, University of Ibadan, Prof. Kayode Adebowale, said that about 200 hectares of land had been devoted by the institution for crops, of which cassava was one.
Adebowale, represented by the Dean, Faculty of Renewable National Resources, Prof. Abiodun Oluwadare, said that the institution would be partnering on the project owing to the various by-products of cassava.
According to Adebowale, Nigeria must develop its indigenous technology, stop depending on importation, add value to farm products and come out with products that would be acceptable to the end-users.
Also speaking, the Vice-Chancellor of Federal University of Agriculture, Abeokuta, Prof. Olusola Kehinde, said that the institution had committed 100 hectares of land to the project.
Kehinde, represented by Dean, College of Animal Science and Livestock Production, Prof. Olusoji Sowande, said that the institution's students would be involved in the project.
This, he said, would afford them the opportunity of picking any of the products in cassava value chain for self-sustainability.
By Suleiman Shehu