"If you want something new, you have to stop doing something old."……Peter Drucker (Management consultant and author)
When the news hit the airwaves that the Lagos State Government (LASG) plans to build multi-layer car parks in strategic locations in the state "as part of the traffic management and transport sector reforms", according to the Lagos State Commissioner for Waterfront Infrastructure Development, Ade Akinsanya, it was a welcome development. And if the truth must be told, such project is long overdue in the state, more so when the issue of unabated traffic gridlock is an urban management albatross and particularly a dent on the image of the city-state.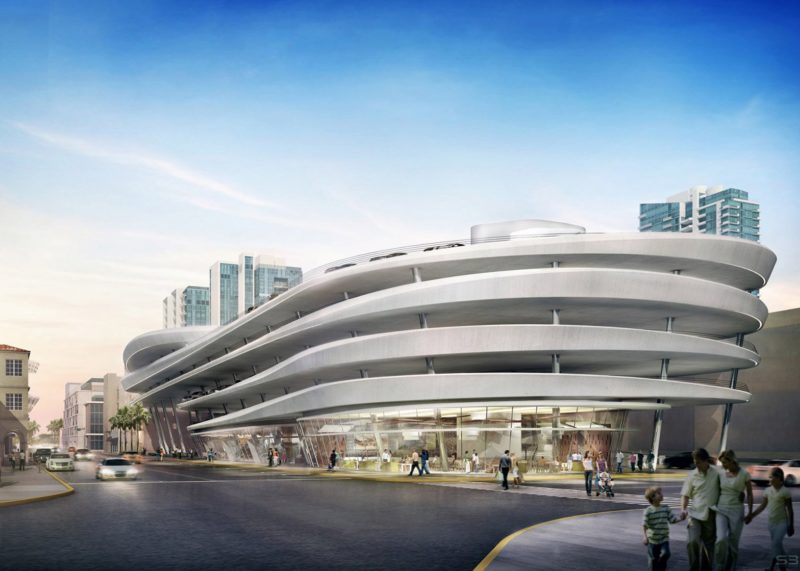 Description and analysis of Lagos traffic gridlock
In Lagos, both vehicular and pedestrian movement within the city is neither a jolly ride nor a pleasurable walk. Human and vehicle compete for space on the roads that are barely motorable. The sidewalks, as narrow as they are, double as road-side shop for traders in defiance of municipal regulations against street trading. Indiscriminate on-street parking is commonplace. Shopping at the Lagos Central Business District (CDB) is not palatable if you ask any Lagos resident because of the battle of wit between motorists and shoppers and the ubiquitous "area boys" who constitute a security risk. These are mainly social outcasts who are streetwise in pick-pocketing and who indulge in fraudulent/tricky activities dupping unsuspecting shoppers of their money or newly-bought goods. The traffic gridlock is unpredictable and not the type characterised with high and low peak period. Once the go-slow happens, it can go on from morning till late at night. This description is a daily occurrence in many parts of Lagos megacity and what it does to the smooth flow of traffic is the exact opposite: traffic gridlock.
Efforts made by the LASG to ameliorate Lagos gridlock
Lagos has been notorious over the years because of its incessant traffic gridlock and efforts at taming the monster by the government in the past and now, have been a "keep-on-trying" result. It has remained insoluble, but not insurmountable in the view of this writer. All it requires is a mixed-grill of transport sector reforms long overlooked, but are now being considered for experimentation and implementation. To-date, as part of the transport sector reforms, the LASG had introduced the Bus Rapid Transit (BRT) aimed at improving public transportation and at encouraging the residents to ride the BRT buses which are driven on dedicated lanes with the attendant advantage of reducing travel time of commuters.
Institutional reforms had been introduced leading to the establishment of Lagos Metropolitan Area Transport Authority (LAMATA) in 2002, as an omnibus agency in-charge of transport policies, planning and public transport infrastructure implementation such as BRT corridor, bus shelter, and bus terminus. The Lagos State Traffic Management Authority (LASTMA) was an "institution of necessity". LASTMA was primarily established to manage traffic in Lagos State. Its functions are to ensure the free flow of traffic and also reduce road accidents. LASTMA trained traffic officers in conjunction with other traffic wardens often collaborate to control traffic in Lagos. And as for the provision of transport infrastructure, bus stop, and public buses, many mileage had been covered in terms of construction of new roads, rehabilitation, public enlightenment for the denizens to cultivate good driving habits and increase in the fleet of BRT buses and allocation of more bus routes which the buses can ply in the city-state.
Despite all the transport sector reforms, Lagos is still gridlocked. Why? The causative factors are due to unseen human problems, institutional inefficiency, bureaucracy (delay in completion of transport sector reform projects), astronomical increase in the number of vehicles plying Lagos roads  which are already congested, bad driving culture and lack of foresight to explore additional options that could be adapted to minimise the Lagos gridlock.
Situation and operation analysis of car parks in Lagos
A glance around Lagos would reveal that hardly could you see an organised public car park in the true sense of the word. The so-called car parks are mere open space being improvised as car parks. They are usually company-owned for the sole use of company employees. Many of the companies are located in the marina area of Lagos. There are other parking facilities owned by private sector operators who leased available open space either from local government or the real property owners, for long tenure 20-30 years. The car parks are badly managed unlike what obtains in other climes. There are seldom subdivided into car lots where each car should be parked. One can not easily determine the full capacity of the facility in terms of the total number of vehicles it can accommodate. It is just a hazard-a-guess headcount.When the car park is full, the park attendants would still allow cars to come in and park albeit there is no vacancy, The responsibility of where to find a vacant lot to park the vehicle is that of the car owner and that is why vehicle owners feel reluctant to patronise many of the makeshift parking lots common in Lagos city proper and other secondary cities such as Ikeja, Ikorodu, Epe, Imota, Oshodi, Agege Ajah, Lekki down the line.
On the issue of security, the car parks score zero because the owners of the parking lots are less bothered. Therefore, in essence,  there is nothing "inviting" for motorists to use the parking lot because the customer service is very poor and the lot owners are more concerned about daily income and don't care a hoot about physical improvements such as resurfacing of the lot, provision of light at nite and general upkeep of the facility. Given consideration to the high number of vehicles plying the city network of roads daily coupled institutional apathy towards the provision of organised multi-layer parking garages the presence of daily gridlock will not evaporate in due course.
Governor Ambode must stop doing something old while desirous of something new
I take readers back to the subject matter of this piece. I want to offer unsolicited advice to Governor Ambode to stop or avoid doing something old, while desirous of something new.  As a  concerned and committed resident of Lagos State, I deeply appreciate the good work the incumbent Governor is doing in Lagos to make the megacity liveable and sustainable. Lagos, as a megacity needs a massive investment in urban renewal and revitalisation intervention programmes/projects to make it globally competitive and a beckon to foreign investors in order to make it a city where "everybody has golden opportunities to succeed" like the success stories of Dubai, UAE, Curitiba, Brazil and the city-state of Singapore, which are globally recognised as liveable, green and sustainable cities based on their superb public infrastructure and innovative/ people-centred urban planning and good urban governance.
In that regard,  before the sod is turned to commence the construction of the multi-layer parking garages all over the city-state, this writer wants to chip in a word or two in advisory capacity no matter how unsolicited such advice could be misconstrued.The ultimate aim is for the governor to leave an enduring legacy about this all-important and much-desired public project must be completed, once it takes off.
The  suggestions  are as follows:
The Governor must not engage the services of inexperienced contractors/builders whose trademark is "poor quality job delivery." He should avuncular and jobs-for-the-boys favouritism because his hard-earned reputation is at stake if the project fails.
Insist on open competition and choose the best of designs that would make a statement of architectural beauty when completed. That is what most cities of the developed world do. They plan and build big to attract local visitors and ceaselessly promote tourism. Dubai, Singapore, and Chicago are world-acclaimed tourist destinations and they gross a humongous amount of revenue from the venture.
The garages must incorporate greenery. Such examples and prototypes abound around the world for LASG to understudy. Nowadays, no city builds public infrastructure without prime consideration for the negative effects of climate change and global warming. It is not a formality, but a necessity if you want to minimise the scourge of  micro "urban heat island".
If there is a constraint of space, the law allows the governor to invoke the "power of eminent domain" to acquire a place that is suitably located but already occupied. Since the project is for the public good, the government must pay just compensation to the property owner(s).
Avoid locations, where the parking garage could create traffic bottle-neck. The ingress to the parking garage should have adequate space to allow for free flow of traffic and to minimise long queue of vehicles waiting on the main road to enter the parking garage.
The LASG's revised Public Parking Law must be strictly enforced and sustainable or else the investment would not be profitable for the prospective investors (local or foreign) and the whole exercise will be in futility. No Parking traffic signs must be visible at designated locations and punishment for violation must at a "high cost" to deter repeat offenders.
All the projects must have a timeframe for completion to avoid cost over-run. Contractors must be held responsible for tardiness or lack of performance and those who finish on time could be rewarded. This is a common business practice for the execution and timely completion of municipal-sponsored projects in the city of Chicago, where you rarely see abandoned public projects.
Lagos must exhibit elegance,  not backwater structures.
By Yacoob Abiodun (Urban Planner and Planning Advocate; Parkview Estate, Ikoyi, Lagos)