Activists on Wednesday, April 3, 2019 in Abuja besieged the outgoing 8th National Assembly, demanding approval of the draft National Tobacco Control Regulations, which they say would be a legacy of its achievements.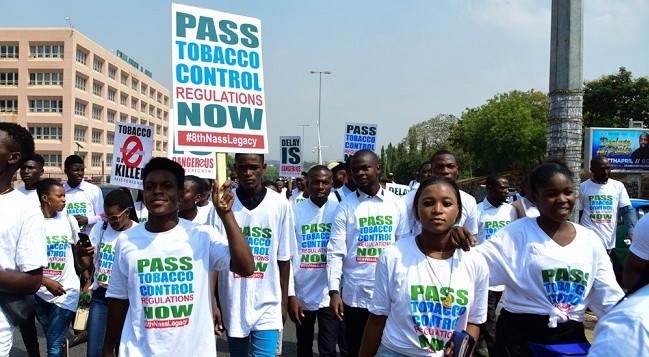 Led by the Environmental Rights Action/Friends of the Earth Nigeria (ERA/FoEN) and the Nigeria Tobacco Control Alliance (NTCA), the day started as a protest march that took off from the Unity Fountain and terminated at the National Assembly complex, where the campaigners delivered a petition to the Senate President, Dr. Bukola Saraki, and Yakubu Dogara of the House of Representatives.
Endorsed by Akinbode Oluwafemi of ERA/FoEN and Oluwaseun Esan of NTCA, the petition called on the leadership and members of the National Assembly to resist attempts by tobacco corporations and their allies to water down the provisions of the regulations and ensure its speedy passage.
Titled "A case for speedy approval of the draft National Tobacco Control Regulations", the petition reads in part: "We are concerned that while smoking rate continues to dip in other continents, it has been on upward climb in several African countries particularly among the youths. In sub-Saharan Africa, tobacco consumption increased by 52% between 1980 and 2016. Currently, over 80 % of tobacco users resides in low- and middle-income countries and by implication, the burden of tobacco related diseases, deaths and socio-economic costs rest mostly on countries who least can afford those costs.
"We are worried that, while several African countries are making progress in enacting Framework Convention on Tobacco Control (FCTC)-compliant laws, Nigeria is lagging in enacting strong policies to rein in rising tobacco use in the country including the influx of heat-not-burn and several other novel tobacco products.
"We strongly believe that the Draft Regulation currently awaiting approval at the National Assembly represents a unique opportunity for Nigeria to give the needed impetus for the smooth enforcement of its National Tobacco Control Act 2015.
"We are aware that the current session of the National Assembly will end on June 6, thereby necessitating that the National Assembly needs to approve the Draft Regulations within weeks.
"We like to point out that the tobacco industry will embark on both overt and covert activities targeted at derailing the passage of this very important Public Health Regulation and further remind members of the National Assembly that Nigeria, as signatory to the FCTC, is bound by that convention's Article 5.3 to place public health and tobacco control above the commercial interest of the tobacco companies and their allies.
"At this critical time, we call on the leadership and members of the National Assembly to resist attempts by tobacco corporations and their allies to water down the provisions of the regulations and ensure its speedy passage. Nigerians will count this as a legacy achievement of the current leadership and members of the National Assembly."