President Joe Biden announced on Tuesday, September 21, 2021, at the United Nations General Assembly (UNGA) that he would double US climate finance for vulnerable nations from the previously promised $5.7 billion a year by 2024, including for adaptation.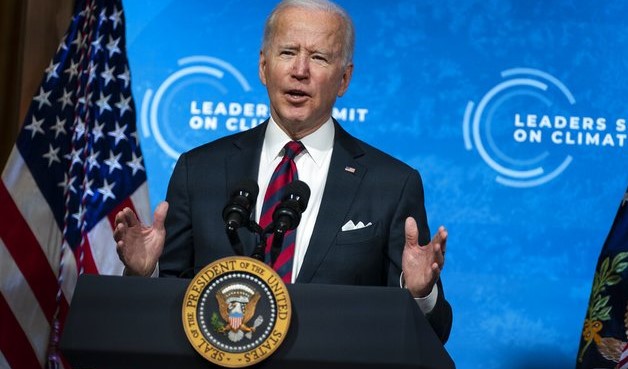 The climate movement welcomes the pledge but reinforces the need for stronger and more ambitious commitments, especially from the richest governments.
According to observers, this is the first big multilateral moment on the road to COP26, and communities all over the globe are hoping for clear commitments on pledges to tackle the climate crisis, and a concrete delivery plan to show how financial gaps will be filled.
In a reaction, Cansin Leylim, Associate Director of Global Campaigns at 350.org said: "Biden's pledge set the tone, but now we need to see all countries follow with action and a delivery plan. We can't afford further delay. We need strong, committed climate action from governments worldwide. Wealthy governments so far have failed to put their money where their mouth is.
"For COP26 to deliver, multilateralism is more important than ever. Leaders should work together to overcome the challenge of access to climate finance once and for all. G20 countries need to step up on the 1.5°C target and wealthy countries need to deliver on the US$100bn climate finance goal and go beyond. The lack of strong commitments means that world leaders are turning their back on the communities most affected by the impacts of climate change."
Thanu Yakupitiyage, US Communications Director, 350.org: "We applaud President Biden's pledge to double climate aid for nations hit first and hardest by the climate crisis. The United States is responsible for the largest number of historical emissions driving climate change and is the world's largest economy. This move by Biden signals recognition of the United States' duty to step up on climate finance and lead the world with bold climate action. We call on Biden to continue this climate finance leadership by appointing a climate champion to the Federal Reserve."
Nicolò Wojewoda, Europe Regional Director, 350.org: "This is a critical year for climate action. Countries must urgently increase their ambition and set stronger emission reduction targets. Rich countries that have caused the climate crisis need to pay their climate debt to the countries who have contributed least and are hit hardest. Now is the time to do everything we can to keep global temperature increases below the 1.5C limit. The UK government has already failed to ensure vaccinations are made available to delegations from around the world to allow the COP26 climate talks to be a more equal space.
"The UK government is also backing more oil drilling in the North Sea, refuses to rule out a new coal mine in Cumbria, and continues pumping billions of stimulus cash into fossil fuels. Its self-proclaimed climate leadership risks being as empty as the stripped-down negotiations it's about to preside over."
Landry Ninteretse, 350 Africa Regional Director: "Now more than ever the developed nations need to honour their climate finance commitments to drastically reduce their emissions, fund the just transition to a low carbon economy and help build resilient societies, especially in developing countries confronted with extreme climate impacts. Between now and COP26 we need to see a greater show of commitment to honour climate finance pledges and significantly lower greenhouse gas emissions, by the developed world."
Joseph Sikulu, Managing Director, 350 Pacific: "Urgent collective action is required especially for the most affected countries and communities. The Pacific has felt these impacts strongly in the past few months with tropical cyclones such as Yasa and Ana. COP26 will be a pivotal event, and failure to deliver on its goals means bringing literal disaster not just for Pacific Islanders but for communities across the world."
Ilan Zugman, Managing Director, 350.org Latin America, based in Curitiba, Brazil: "Bolsonaro's speech was a piece of fiction. As the destruction of the Amazon advances rapidly and Indigenous Peoples fight bravely against government-supported attacks on their lands, the Brazilian president, a climate crisis denier, distorts data and contradicts his own statements to pretend he is working for the environment. Brazil has a strong civil society that has been pushing for radical changes in environmental policies, but until that happens, the global community needs to make it clear that they see Bolsonaro's lies and that it will take more than poorly staged theater for the country to regain international trust."
Norly Mercado, Asia Regional Director, 350.org: "Asia is home to more than half of the global population and finds itself on the frontlines of the dual crisis of climate change and the COVID-19 pandemic. Millions in the region are already experiencing the effects of climate change, while simultaneously confronting vaccine inequality. We need world leaders to commit to meaningful multilateral action on these issues now."