World leaders from more than 190 nations are gathering at the United Nations Climate Summit (COP21) in Paris, France from November 30 – December 11, 2015 to deliver a bold new international climate agreement.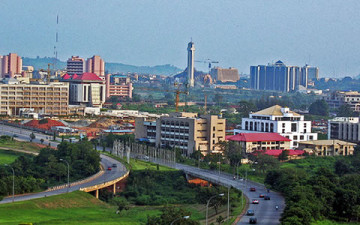 On Monday, 30th of November, 2015, the day the UN Climate Summit begins, the Coalition of Abuja Climate Groups will join with other hundreds of thousands of climate and environmental activists around the world who are holding marches and other various climate events in support of COP 21 in Paris, to which the Paris agreement will positively impact on Nigeria's climate policies. Development organisations, climate movements, people young and old, faith groups, indigenous people, trade unions and many more will march together globally. Together, campaigners will demonstrate that tackling climate change is important to all of us and urge leaders to sign an ambitious climate agreement in Paris that will see countries scale up action until the job is done.
The Abuja Climate March is a peaceful solidarity walk, organised by the Coalition of Abuja Climate Groups (CAC-G). It aims to raise awareness on issues of climate change and other environmental degradation in Nigeria. Venue is the Unity Fountain, Maitama, Abuja. It commences by 9 am.
Global data, says CAC-G, is clear that rising temperatures will cause disruptions to economic, agricultural and even political systems all over the world. In Nigeria, where our infrastructure is already fragile and our population is rapidly increasing, such disruptions could mean disaster.
In September 2015, world leaders committed to a new set of global goals for sustainable development. These goals, called the Sustainable Development Goals (SDGs) provide a roadmap for the next 15 years and if leaders keep their commitments, could end extreme poverty, fight inequality and tackle climate change. The new global goals symbolise an important shift in development, recognising that these three issues are interlinked and what's more, that climate change could undermine all the progress we have made in eradicating poverty and inequality thus far.
Before attention turns to the delivery of the Sustainable Development Goals, Nigerian government has the opportunity to deliver bold new climate policies which can send a strong signal that the age of dirty fossil fuels is over and set us instead on a path to a safer, fairer and more sustainable future for all.
As our nation prepares to send delegates to the 2015 United Nations Climate summit (COP 21), we Nigerian citizens want to demand that our government's actions go beyond mere lip service. The conference's objective is to achieve a legally-binding and universal agreement on the world's rapidly warning climate from all the nations of the world and Nigeria must take this responsibility seriously.
"Nigeria is one of Africa's largest contributors of global emission of CO2, but we believe we can do better. Our leaders must take concrete steps to protect the environment and reduce its emissions of greenhouse gasses (GHG) by passing new laws and enforcing those already in place. We demand action to mitigate the encroaching desertification in the North, the flooding and drought in the middle belt, the soil erosion in the East, rising sea levels on our coasts and the wide scale destruction of our agricultural activities and forests across the country, says CAC-G.