The Norwegian government is said to be considering whether to finance industrial logging in the rainforests of the Democratic Republic of the Congo, where 20 million hectares of virgin forest could be handed over to the timber industry. It is believed that Norway will commit some €16 million to the project.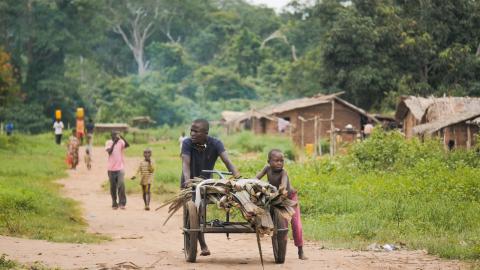 The Congo Basin in Central Africa is home to the planet's second largest rainforest, whose virgin forests houses a diversity of species, including chimpanzees, gorillas and forest elephants. Besides storing gigantic amounts of carbon, they are also home to millions of people.
However, as part of its climate protection policy, the Norwegian government plans to bankroll the project through its climate and forest protection programme, the Central African Forest Initiative (CAFI). The project was developed by the French state development agency, AFD.
But the proposal has met with stiff opposition, as a host of campaigners say it is environment-unfriendly.
"Logging is one of the main causes of the global destruction of forests. The tropical timber industry destroys the livelihoods of people and animals – and fuels climate change," says Reinhard Behrend of the Rainforest Rescue.
He adds: "Just as questionable as the project is Norway's source of funding. Through its exploitation of oil and gas deposits in the North Atlantic and Artic Sea, Norway has become one of the richest countries in the world. The burning of fossil fuels is the leading cause of climate change.
"Whilst Norway amasses billions of euros each year from its oil and gas industry, countries in the Tropics are suffering especially from the climate change caused primarily by industrialised nations."
The tropical timber industry is to receive 20 million hectares of rainforest – more than double the area of Portugal – as logging concessions, warns the British environmental organisation, Rainforest Foundation UK (RFUK), which calculates that not only do the trees store massive amounts of carbon, but so does the soil.
"Vast areas of the planned concessions stand on thick layers of peat. These contain on average almost 2,200 tonnes of carbon per hectare. Around 10.4 Giga tons of CO2 could be released through logging. This corresponds to over 200 years of Norway's own annual CO2 emissions currently estimated as 53.4 mega tons CO2 equivalent," the group adds.
Simon Counsell, Director of the RFUK, explains: "The government of Norway risks putting globally significant stores of carbon at risk through misguided support for so-called sustainable forest management in DRC. Instead of expanding large-scale timber-felling, Norway should work with the Congolese government to shut down the half of the country's logging areas which the law requires to be closed and returned to the state."