Participants at the recently held National Environmental Congress (NEC) by Environmental Rights Action/Friends of the Earth Nigeria (ERA/FoEN) have collectively developed a template for the Federal Government of Nigeria to follow if energy democracy must be realised in the country.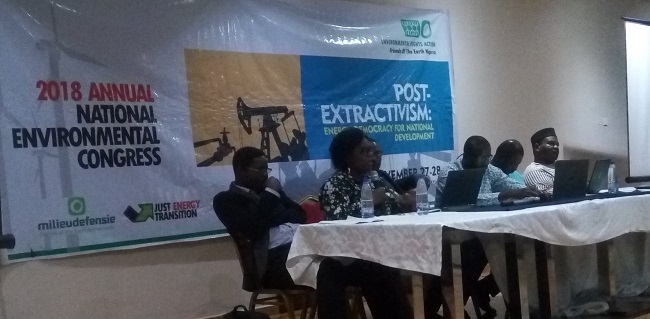 The NEC, themed: "Post-Extractivism: Energy Democracy for National Development", was a convergence of civil society, community groups, youths, government officials, labour unions, the academia, and the media. The presentations and conversations highlighted the possibilities of life after oil in Nigeria and the urgent need for that energy transition.
At the close of the Congress, which is the organisation's 11th edition, a communique issued reflected a collective agreement by participants providing a template for relevant Ministry, Departments, and Agencies of the Federal Government of Nigeria.
The communique reads:
The Nigerian government prioritises national and community energy needs over global economic models that largely promote inequalities.
The Nigerian government promotes decentralised alternative energy with a focus on renewable energy which must be clean, affordable for local communities, off and mini-grids, environment-friendly.
Zero tariffs are imposed on renewable energy products to allow greater energy access.
Nigerian government and governments on the African continent prohibit the importation of obsolete vehicles and machines as well as a ban on generator sets in all MDAs at the federal, state and local government levels.
Nigerian government establishes clear and appropriate institutional infrastructure and frameworks to support expanding energy supply and access and their sustainability. Sustainable energy policies must be harmonised and integrated with development at all levels.
A renewable energy development model that is backed by an Act of Parliament.
The World Bank, the Nigerian government and financial institutions divest funding, loans, and subsidies from fossil fuel development and oil prospecting and instead invest in renewable sources of energy.
Nigerian government show more commitment to its much-touted transition from fossils by allocating a reasonable percentage of its annual budget to funding for research and development of alternative energy sources such as solar, wind, and biomass, among others.
A substantial percent of the Ecological fund be used to fund renewable energy projects.
Renewable energy as a course of study should be included in school curriculum.
The polluters-pay principle to be applied to fossil fuels corporations.
The media deepen understanding of energy issues as well as the struggles against environmental and climate injustices.
The Congress held in Port Harcourt, Rivers State from November 27 to 28, 2018.
By 'Seyifunmi Adebtoe, Abuja