"We are asking for clean waters, we are asking for safe food, we are asking for the right for fishermen to carry out their craft – employment, because the fishing sector employs far more Africans than the structive sector."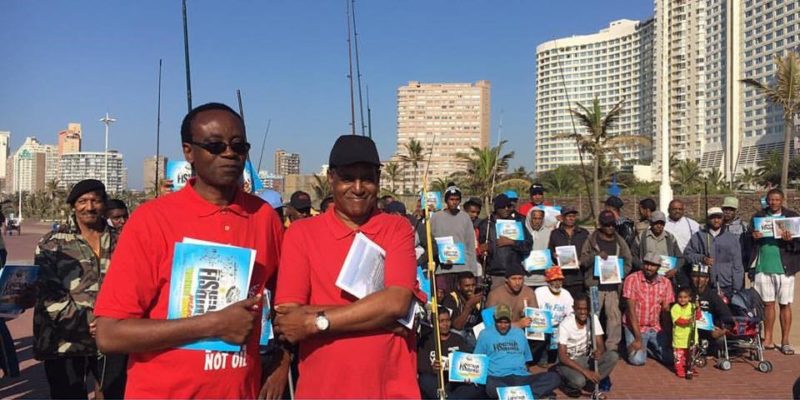 Those were the passionate words of Nigerian activist Nnimmo Bassey on Monday, June 19, 2017 at the Durban beachfront, by the Snake Park in South Africa, venue of the launch of the Fish Not Oil project.
Bassey, Director of Health of Mother Earth Foundation (HOMEF), says fishermen want the right to fish, have a sufficient catch and to fish according to the law.
Bassey was in the company of a group of fishermen who had gathered in solidarity for the project. Fish Not Oil is an initiative which calls for the government to listen to the plight of fishermen and how oil exploration negatively impacts on the sea.
Durban has a large fishing community and a few fish for recreational purposes, while many fish to provide food for their families.
The fishermen were also provided with books that will aid them in becoming better fishermen. One book teaches you everything you need to know about how to fish, especially issues linked to the law, while the other book teaches about the importance of fish and the nutrients contained in it.
"It teaches them about housekeeping, it teaches them about the size of fish they should catch – if they catch smaller fish, what should they do? Throw it back – it teaches them about the equipment – how it should be left, how it should be dealt with, but more importantly, it teaches them to be role models as fishermen," says Desmond D'sa of the South Durban Community Environmental Alliance.
It was gathered that, in future, the fishermen will engage with the city of eThekwini as well as Transnet, facilitated by the Durban University of Technology.