In a momentous vote, the California Senate on Monday, May 15, 2023, approved a resolution formally endorsing the Fossil Fuel Non-Proliferation Treaty proposal. The resolution calls upon President Joe Biden to support Pacific nation states seeking a negotiating mandate for a new treaty to manage a global phase out of coal, oil and gas production.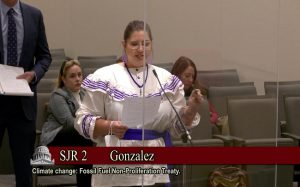 The SJR2 resolution was introduced by California Senate Majority Whip Senator Lena A Gonzalez, and co-sponsored by Indigenous Environmental Network and Stand.earth. With a majority of 27 votes, the Senate approval is said to be a major step toward the State of California joining 85 other subnational governments and cities who have formally endorsed the Fossil Fuel Treaty proposal.
California Senate Majority Whip, Senator Lena A Gonzalez, said: "It is essential that governments and communities across the globe commit once and for all to ending our reliance on fossil fuels. People around the world, especially low-income people of colour, are suffering the adverse health impacts of fossil fuel pollution, from asthma to cancer. Each day we see more extreme weather changes happening, like heatwaves and floods.
"The science is clear, fossil fuels are responsible for the devastating climate impacts already happening. We can prevent further harm to our communities, and that is why I thank my colleagues in the Senate for supporting SJR 2 and urge my colleagues in the Assembly to do the same, so that our nation can be a part of the solution, to forge strong unity and commitment to phasing out the use of fossil fuels."
Bill McKibben, writer, founder of 350.org and Third Act, and Schumann distinguished scholar in environmental studies at Middlebury College, said: "This is a major step in an important direction – everything we know about climate science says we must wean ourselves off fossil fuel now!"
As the world grapples with the catastrophic impacts of climate change, and Californians witness the increasing frequency of devastating wildfires, severe droughts, and rising sea levels, it is evident that bold and immediate action is needed. By supporting the Fossil Fuel Treaty, California would set a powerful precedent for other states and nations to follow, reinforcing the urgent need for international cooperation to address the root cause of the climate crisis: fossil fuels.
Fossil fuels contribute to air pollution, respiratory illnesses, and a host of other health problems. By taking decisive action to phase out coal, oil and gas, California can improve air quality, protect vulnerable communities, and enhance the well-being of its residents. Embracing the call for a Fossil Fuel Treaty would send a clear message that California recognises the incompatibility of fossil fuel dependency with the urgent need to reduce greenhouse gas emissions.
The Paris Agreement makes no mention of the terms "coal", "oil" or "gas" and fossil fuel production gas expanded significantly since its adoption. In this context, momentum is building globally behind the proposal of a new treaty to protect communities, workers, people's health, livelihoods and future generations from the threat of fossil fuel production.
California has a unique opportunity to leverage its economic influence and diplomatic prowess by supporting the creation of a broad coalition of cities, states and countries committed to phasing out fossil fuels. The transition to clean energy also presents immense potential for job creation, investment, and economic growth.
Alex Rafalowicz, Executive Director of the Fossil Fuel Non-Proliferation Treaty Initiative, said: "While California has made good progress in reducing emissions and embracing clean energy, there is still a lot they need to do to end expansion and manage a phase out of oil and gas, particularly those that are dangerously close to homes and schools. As the largest sub-national economy in the world, California has a big role to play in spurring collective action on a global scale and in planning for a climate transition.
"Endorsing the Fossil Fuel Treaty proposal would amplify California's impact, catalysing a ripple effect that reaches far beyond state borders. It would inspire other regions, states, and countries to join forces in tackling the root causes of the climate crisis: the production of coal, oil and gas."
The Fossil Fuel Treaty proposal has gained significant momentum in recent months, with a block of Pacific nation states – Vanuatu, Tuvalu, Tonga, Fiji, Niue and the Solomon Islands – formally and publicly expressing their intention to seek a negotiating mandate for a new treaty. They are now pushing to build an alliance of national and subnational governments globally who can join them in developing the initiative. The proposal has also had formal support from the European Parliament, the World Health Organisation and the President of Timor-Leste.
These calls from governments are reportedly backed by a diverse and global campaign network that consists of 3,000 scientists and academics, 650 parliamentarians from 84 countries, 101 Nobel laureates and over 2,000 civil society organisations who have all backed the core pillars of the proposed treaty. The California Senate's endorsement is said to serve as a crucial step towards building stronger political support, further bolstering the proposal's chances of success at the global level.