A resolution calling for a Fossil Fuel Non-Proliferation Treaty on Wednesday, April 19, 2023, made it out of the California Senate Committee on Environmental Quality. This is the resolution's first major step in moving through the California legislature.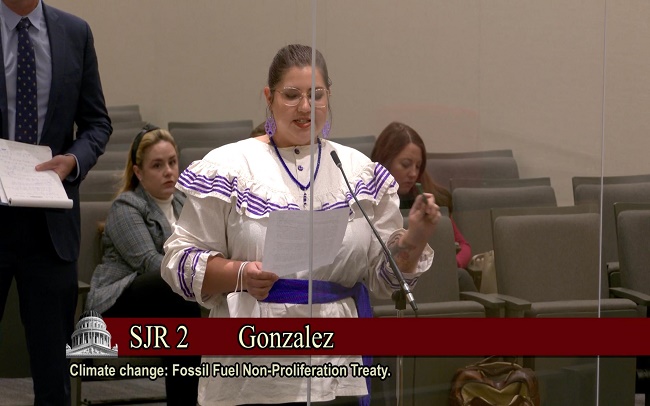 Introduced by Senate Majority Whip, Senator Lena A. Gonzalez, and co-sponsored by the Indigenous Environmental Network (IEN) and Stand.earth, the resolution supports a global plan to create the missing framework for managing fossil fuel production, first by stopping expansion and then carefully phasing out coal, oil, and gas in a way that is fair and fast. It also looks to protect the most impacted workers and local government services through this transition to abundant and clean renewable energy.
California Senate Majority Whip Senator Lena A. Gonzalez, who introduced the resolution, said: "Every gallon of fossil fuels burned matters on a warming planet and California is already facing wildfires, droughts and heat waves with more frequency and severity than ever. We're already working to ramp down fossil fuel development and divest from fossil fuels, but we need to think bigger. There is currently no mechanism to counteract the raw economic and political power of the industry that is locking us into dirty energy.
"We cannot continue to feed the industry that profits from this system of injustice. This is why I have proposed in Resolution SJR2 that the State of California formally endorses the call for the world to negotiate a Fossil Fuel Non-Proliferation Treaty. I hope that in the coming months California will join this effort, advocating for a truly global response to a global crisis."
While California has a reputation for being quite progressive as a major economy on climate, fossil fuels, especially oil, is a particularly contentious issue for the state at the moment. More and more Californians are on the frontlines and fencelines of fossil fuel projects despite efforts to fight neighbourhood drilling.
The push from California for a Fossil Fuel Non-Proliferation Treaty must also be complemented by urgent policy reforms to stop all new fossil fuel permits, drop existing oil drilling, and roll out health and safety buffers that prioritise the health of local communities and the environment.
A witness at the Senate Hearing, Michael Brune, a former Executive Director of the Sierra Club, said: "It is a privilege to be here speaking in support of California extending its leadership on climate and energy. One of the first to phase out coal. One of the first to pass the rooftop solar bill. The full suite of policies that California has adopted have done a good job of reducing our fossil fuels demand. But when you're cutting something with scissors you need a sharp blade; Supply and demand are linked. We need to cut supply at the same time we cut demand.
"This resolution would call for a managed wind down of fossil fuels. It is not enough to say we need to reduce demand; we need to reduce supply. Let's show the country and the world that California is ready to lead on phasing out fossil fuels and export optimism. Let's show the rest of the country that California is ready to lead on climate and energy."
Also at the hearing, Jordan Harmon, Policy Analyst for the Indigenous Environmental Network, said: "Each fraction of a degree of warming results in climate devastation that will ultimately sacrifice the world's most vulnerable people, especially Indigenous peoples. California has among the highest Indigenous populations in the country. California is also among the states suffering most from climate destruction as a direct result of fossil fuels development. As the 5th largest subnational economy in the world, California has a unique responsibility to lead the way for this country's transition.
"By adopting this resolution, California can join the over 80 cities and subnational governments already supporting this call, including the city of Los Angeles and the State of Hawaii. By adding California's powerful voice to the call for an international treaty to phase out fossil fuels, you are upholding your responsibility to your state and to the Indigenous Peoples of this land to protect vital public and cultural resources."
Diplomatic support for the Fossil Fuel Treaty proposal is said to be surging. A bloc of Pacific nations – Vanuatu, Tuvalu, Tonga, Fiji, Niue and the Solomon Islands – have formally and publicly called for a Fossil Fuel Non-Proliferation Treaty. They are now pushing to build an alliance of national and subnational governments globally who can build further momentum and secure a negotiating mandate. The proposal has also had formal support from the European Parliament and the President of Timor-Leste.
These calls from governments for a Fossil Fuel Treaty are backed by a diverse and global campaign endorsed by the World Health Organisation, 3,000 scientists and academics, 600 parliamentarians from 79 countries globally, 101 Nobel laureates and 2,000 civil society organisations.