The Central American Bank for Economic Integration (CABEI) has signed an Accreditation Master Agreement (AMA) with the Green Climate Fund (GCF). The agreement will enable the multiplying of financing sources for resilient and low carbon projects to boost the region's sustainable development.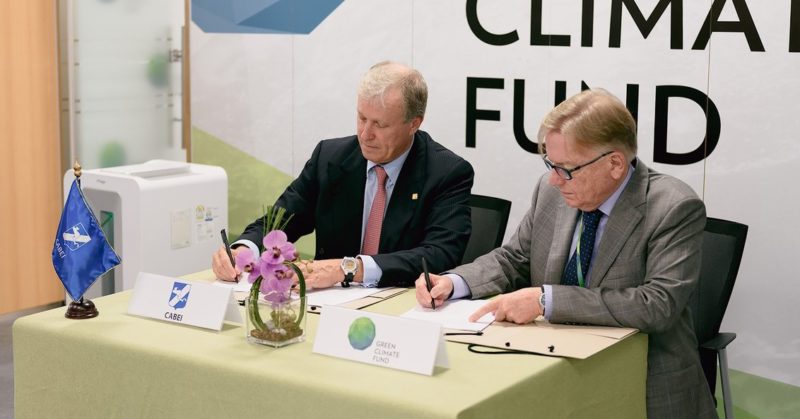 By signing this legal arrangement, CABEI has completed an important step in its accreditation to the GCF, which empowers it to channel financial resources from the Fund once its climate change programmes and projects receive GCF Board approval.
As a GCF accredited entity, CABEI is developing a pipeline of mitigation and adaptation programmes and projects at the national and regional levels, which will contribute to increasing the resilience of communities to the adverse effects of climate change and climate variability.
The signing of the AMA – the central instrument which sets out the underlying terms and conditions to work together for the use of GCF resources – demonstrates the Bank's commitment to respond to the region's needs and priorities, and reiterates its institutional objective of promoting the financing of climate change actions. According to the GCF, the Bank is fully committed to achieving the commitments and goals agreed upon by its country members in the different conventions on climate change and to implementing countries' Nationally Determined Contributions (NDC).
"With the support of GCF we will increase the flow of financial resources to the region in order to support our country members to respond to climate change challenges," stated CABEI Executive President, Dr. Nick Rischbieth.
"Currently, CABEI's portfolio is focused on providing financing to sectors like infrastructure, renewable energy, energy efficiency, water and sanitation and agribusiness. It is expected that in the following years, the portfolio for the financing of green projects will increase," he added.
Commenting on the agreement signing, GCF Executive Director, Howard Bamsey, said: "We are very pleased to enter into this next phase with CABEI, which will expand the reach of GCF resources among CABEI's member countries in Central America, many of which are extremely vulnerable to the effects of climate change."