A don, Prof. Obas Ebohon, has said that 75 per cent of global environmental degradation originates from the built environment sector.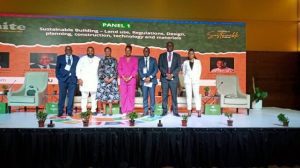 Ebohon, a professor of Sustainability and Environmental Law at London South Bank University (LSBU), said this while delivering a keynote address at the 10th Unite Leading ESG Real Estate Event in Africa Summit in Lagos on Monday, May 30, 2022.
The summit had "Towards A Sustainable Culture" as its theme.
According to the don, the real estate sector consumes 40 per cent of global energy annually and accounts for 40 per cent of global annual raw material use.
"Buildings and construction account for 39 per cent of carbon dioxide emissions which are expected to rise by 50 per cent by 2030, and also accounts for 25 to 40 per cent of total solid waste generation.
"The sector consumes 20 per cent of global fresh water and generates 20 per cent water effluents," he said.
According to the professor, the role of the government is fundamental and critical to moving the real estate sector toward sustainability.
He stated that the real estate market cannot be internalised at the onset and, as such, should be hugely externalised.
Ebohon urged the government to provide regulatory framework for the sector and promote the industry's self-regulation through incentives, command and control measures.
He said further that how and where buildings were erected might impact on the environment and human health, adding, therefore, that it must be regulated.
The professor noted that in most developed countries, a two-pronged approach was being used by builders, which included: targeting new building and retrofitting old ones to sustainable standards.
He said that new buildings could readily be designed to use 30 to 50 per cent less energy than required.
Ebohon expressed hope for progress in the real estate sector, stressing that more than 50 per cent of new commercial properties were built to sustainable or green standards.
"It's not all doom. Though slow, some progresses are being made presently, as the use of new technologies and other modern methods of construction (MMC) have resulted in saving up to 44mt equivalent of carbon dioxide," he said.
According to him, sustainable buildings contribute positively to the environment, economic growth, employment opportunities, occupants' wellbeing as well as productivity and progress to developers and the real estate sector.
In a panel discussion, Managing Director, Dutum Construction Limited, Mr Temitope Runsewe, said that government must first set a pace for stakeholders in the sector through regulations toward achieving environmental sustainability.
Runsewe also advised experts and academics in the sector to equip students on the modern and advanced technology and skills needed for a greener environment.
By Rukayat Adeyemi and Grace Alegba