Institutional reform is a key intervention towards ensuring the resilience of African economies and the livelihoods of communities, says the African Climate Policy Centre (ACPC) of the United Nations Economic Commission for Africa (ECA).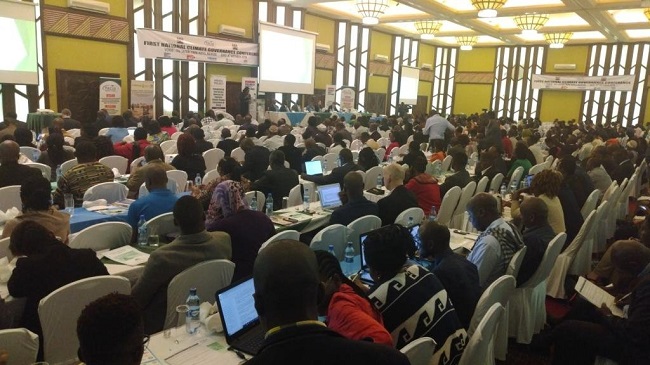 According to James Murombedzi, Officer-in-Charge of ACPC, communities have long practiced many adaptation strategies and devised many viable responses to changing conditions.
"However, there are limits to how well communities can continue to practice adaptive livelihoods in the context of a changing climate. They need the support of an enabling environment created by government-planned adaptation," he observed.
He was addressing participants at the First Kenya National Climate Governance Conference on Tuesday, October 9, 2018, which preceded the Seventh Conference on Climate Change and Development in Africa (CCDA-VII) commencing on Wednesday in Nairobi, Kenya.
The climate governance conference comes on the heels of the IPCC report on Global Warming of 1.5oC, which says the world is heading towards catastrophe if immediate action is not taken to halt greenhouse gas emissions.
"We have adequate knowledge of the causes of global warming, and the science is conclusive. There is no room for climate deniers in this discourse," said James Murombedzi. "However, the inaction that we have seen is not because there is insufficient knowledge or technology or finance. We have enough of these to be able to change the way in which we produce, distribute and consume goods and services."
The report by the Intergovernmental Panel on Climate Change confirms what the impacts of climate change that African is already experiencing.
Mithika Mwenda of the Pan-African Climate Justice Alliance (PACJA) said the implementation of climate policies remains crucial.
"The successful implementation of Nationally Determined Contributions (NDCs), a set of actions each country has committed under Paris Agreement to combat climate change, will be determined by the policy and legal frameworks which will be laid down by individual countries," he noted.
African economies and communities are generally dependent on natural resources. The use and management of these natural resources also tends to be characterised by institutional structures which are poor, making them vulnerable to climate extremes.
CCDA-VII will focus on mobilising action towards the achievement of the objectives of the Paris Agreement.
The ACPC, through the ClimDev Africa initiative, is already exploring the climate governance prospects for Africa structural transformation towards achieving the aspirations of Agenda 2063 and the Sustainable Development Goals (SDGs).
"Climate change is cross-cutting. It affects every aspect of life, and our ability to achieve the SDGs or indeed any of the aspirations of agenda 2063 is constrained by climate change. Because of its cross-cutting nature, climate governance is complex. It requires the participation of multiple stakeholders, with sometimes conflicting interests," said James.
With the support of DfID, the ACPC is also implementing the Weather and Climate Information Services (WISER) which seeks to promote the production and use of climate information and contributes to building the capacities of hydrological and meteorological authorities across the continent.
he ACPC has also developed a five-year programme which seeks to support African countries in building resilient infrastructure and economies.
Climate finance is however a major constraint to climate action.
The ACPC posits that "if local governments access decentralised climate finance, they should be empowered to disburse these climate funds for investment in priorities chosen with communities for adapting to climate change".
Courtesy: PAMACC News Agency