President Muhammadu Buhari of Nigeria on Tuesday, May 8, 2018 reiterated the need for sustained financial, technical and capacity building support from the international community to mitigate the adverse effects of climate change in the country.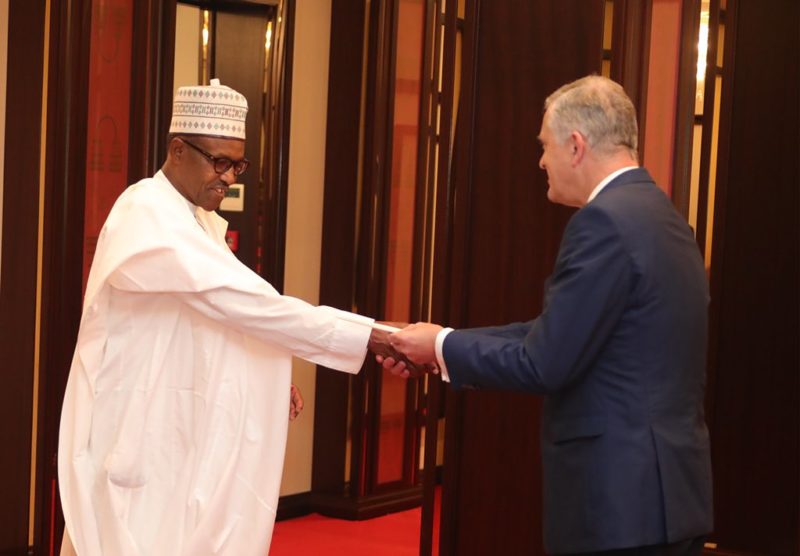 The President made the call when he received Letter of Credence from Mr Robert Jan Petri, the Ambassador of Netherlands to Nigeria.
President Buhari said Nigeria would continue to vigorously pursue the replenishment of the Lake Chad Basin, which had dried up to 10 percent of its original size.
"With the population growth in Nigeria and the drying up of the Lake Chad, we have to move faster and adapt to the impacts of climate change through technological solutions," he said.
The President told the Dutch Ambassador that following Nigeria's active participation in UN-organised climate change conferences in 2015, 2016 and 2017, the Nigerian government successfully hosted a high-level international conference on Lake Chad in February 2018.
He noted that the high-level conference provided an opportunity to push further options to restore the Lake Chad, including the inter-basin water transfer project from Ubangi River in Central Africa to the Lake.
On agriculture, the President welcomed the interest by some Nigerian doctoral students studying in the Netherlands on developing the sector through research and innovation, particularly the livestock sector.
In separate remarks, while receiving the Letter of Credence from the High Commissioner of the Republic of Botswana, Mr Pule Mphothwe, Buhari commended the Southern African country for its consistent support to Nigeria in the international forum.
While recounting Nigeria's leadership role in the liberation of African countries from colonial domination, the President expressed the readiness of Nigeria to continue to support fellow African nations in their time of needs.
"It is a national duty to support our African brothers in their time of need."
The President, who also received Letter of Credence from Mr Houssam Diab, Ambassador of Lebanon to Nigeria, commended Lebanon for successful parliamentary elections, commitment to stability and security in the Middle East, as well as assistance to Syrian refugees.
In their separate remarks, the Ambassadors while highlighting the existing and cordial relations between Nigeria and their countries, called for increased trade and economic cooperation.
The Dutch Ambassador said: "We are in the process of intensifying our cooperation, particularly on agriculture where we can offer our expertise, being the second largest exporter of food after the United States."
Also in his remarks, the Botswana High Commissioner told President Buhari that several companies from his country had indicated interest to invest in Nigeria's mining, agriculture, sports and creative arts sectors.
"Sequel to the visit to my country (Botswana) by your predecessor in 2011, there is a great desire for my President to visit Nigeria," Amb. Mphothwe said.
By Ismaila Chafe