President Muhammadu Buhari has said that the greatest investment Europe and America can make in Africa now is helping the continent accomplish inter-basin water transfer to recharge the Lake Chad.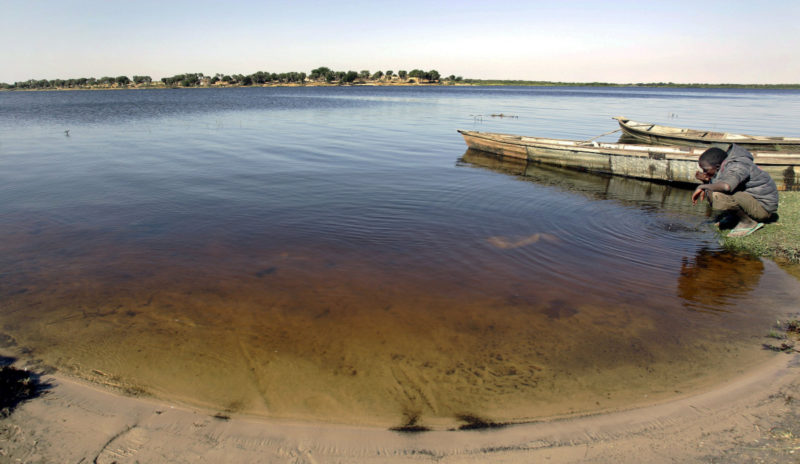 Mr Femi Adesina, the President's Special Adviser on Media and Publicity, said in a statement on Friday, October 26, 2018 that Buhari stated this when he hosted the Chairman of the African Union Commission, Mr Moussa Faki Mahamat, at the Presidential Villa, Abuja.
Buhari noted that Lake Chad, which provides a means of livelihood to several millions of people in four countries – Chad, Cameroon, Niger and Nigeria, had shrunken to 10 per cent of its original size, due to the impact of climate change.
He observed that people who depended on the Lake for fishing, farming, animal husbandry, and many others, had been thrown into dire straits.
"That is one of the reasons youths now dare the Sahara Desert and the Mediterranean Sea, to seek greener pastures in Europe.
"But helping to recharge Lake Chad will help a great deal in curbing irregular migration,'' he said.
While noting that the size of Nigeria and resources available place a lot of responsibilities on its shoulders, the president pledged that the country would continue to fulfill its obligations to the African Union.
"At all international fora, we emphasise the matter of Lake Chad. We also talk about the influx of small arms from the Sahel, which worsens the security situation between herders and farmers.
"We will keep the issues on the front burner,'' Buhari was quoted as saying.
In his remarks, Mahamat lauded Buhari, saying his leadership was good for Nigeria, for AU, and for Africa in general.
He added that the next AU Summit would investigate the reform of the AU Commission, positioning the AU and Africa in the world, Single Air Transport Market, the Africa Continental Free Trade Area, and other issues.
Mahamat observed that Nigeria had played major roles towards peace in countries like Guinea Bissau, Togo, Liberia, Mali, Sierra Leone and many others
"Nigeria is the engine of Africa politically, economically, and around peace and security. Without her, Agenda 2063 cannot be accomplished.
"We depend on the elder to reach our destination in good shape. Nigeria is worthy of being followed. We rely on your wisdom to fulfill the task before us,'' Mahamat said.
By Ismaila Chafe