BudgIT, a non-governmental organisation (NGO), has advised the Federal Government to expedite action on gas flaring to stop environmental degradation posing hazards to human health and loss of revenue in the country.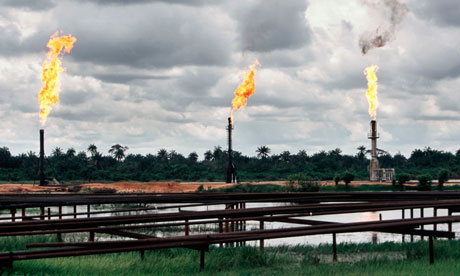 The group gave the advice in a statement signed by its Communication Lead, Mr Abiola Afolabi, on Thursday, April 19, 2018 in Lagos.
BudgIT, however, said that it observed some progress in the fight against routine gas flaring over the last 20 years.
Afolabi said analysis by the company's extractive team revealed the volume of gas produced increased by 91.13 per cent.
The company also said the volume of gas flared reduced by only 38.06 per cent between 2001 and 2016.
"This implies that oil companies invested more money in gas production activities and are less concerned about sufficiently investing in technologies and infrastructure to control gas flaring.
"Research revealed that Nigeria has a potential for the consumption of un-flared gas.
"To this end, BudgIT urges all stakeholders to commit towards putting in place the supply-framework, infrastructure and market systems necessary for un-flared gas to reach its end users' needs," the statement noted.
BudgIT called on the government to explore existing technologies and strategies to reduce the amount of gas flared into the atmosphere.
It added that some oil companies were unwilling to make the investment necessary to deploy the right technologies and infrastructure in Nigeria.
"Also, the guiding legal framework for deterring gas flaring must be reviewed to prevent companies from taking advantage of inherent loopholes.''
The organisation quoted the Finance Minister, Mrs Kemi Adeosun, as saying, "In current documents that cover the gas flaring penalty, the penalty was drafted as a charge.''
"A charge is tax deductible; so when international oil companies flare the gas, they pay the charge on which they get tax relief."
The statement said a BudgIT team visited communities in the Niger Delta in April 2017 and observed several cases of gas flare near residential neighbourhood, specifically Polaku and Ogu communities in Bayelsa and Rivers states respectively.
It also said the effects of gas flaring were not limited to deformity in children, lung damage, pneumonia, asthma, bronchitis, blood disorders and a host of other fatal health conditions.
Also, Mr Oluseun Onigbinde, BudgIT's Lead Partner, called on the Federal Government to muster the political will necessary to execute the country's gas master plan and to enforce regulations aimed at achieving Zero Routine Gas Flaring.
Onigbinde suggested that proceeds from gas flare penalties could be channelled toward funding health-related research in the Niger Delta region to protect the residents and improve their living conditions.
By Olawunmi Ashafa